Living in a cardboard box is boring. Even little chicks need to have new things to explore and challenges to overcome. I was digging up dandelions yesterday (no roundup here!) and decided that a few clumps of dirt and greens (and maybe a bug or two) was just the thing to liven up the chicks' days.
It was scary.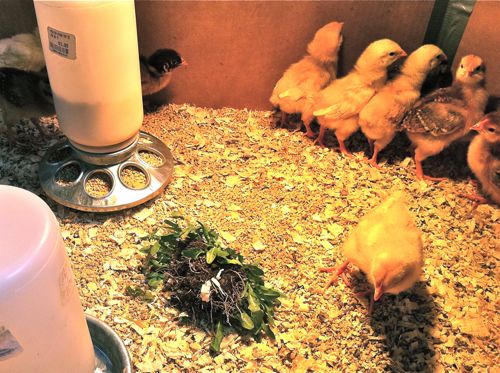 But the boldest chick, a little yellow one, made the first move.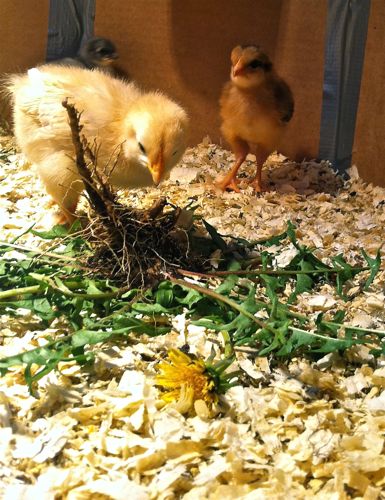 I don't know what breed she is – the yellow ones all look look generic yet. Whatever the breed, I'm betting she'll remain the flock leader.
Soon, her cousins all joined in.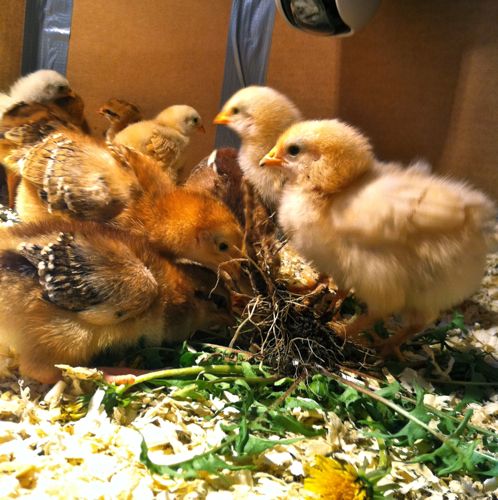 It's good for the chicks to learn to look for food and be adventurous about what they eat. It's also good for them to get grit into their gizzards. I want them to have strong immune systems, and so introducing them, slowly, to the world of dirt and germs, will help them to host the good bugs in their guts, and to develop resistance to pathogens.
Besides, they had a lot of fun. I'm not anthropomorphizing. Ever since they arrived the chicks have been noisily peeping. There's a distress peep when they're scared, and there's general chit-chat peeps. But, for the first time yesterday, I heard the cheerful melodic chirp that chicks make when they find food.
Candy likes the dandelions, too. I have plenty of weeds for everyone.