Hens that lay eggs in factory farms have little genetic diversity. One of the breeding criteria is for the hens to lay identical eggs. In fact, if an egg is a slightly odd shape or color, it will be diverted for use in "egg product" and not put into a carton and sold as "shell eggs."  One of the nice things about having a variety of chickens in one's backyard is that the eggs come in different sizes and colors. Shell color doesn't have anything to do with flavor or nutritional quality, but they sure are pretty. Depending on the breeds of your hens, you'll have a range of shell colors from white to dark brown, and from green to blue. There will be small eggs laid by bantams and large eggs laid by big hens.
Even if you have a flock of only one breed, you'll notice variation that you'll never see in supermarket eggs. Chickens lay eggs unique to themselves. I once had a hen that consistently laid an egg that was pointy on both ends. My two Golden Comets come from the same breeder and are exactly the same age and size. And yet, one lays a light brown, very large egg and the other lays a more oblong, dark brown egg.
Of my thirteen chickens, most are old, and some are breeds not known for their egg-laying prowess. I appreciate each and every egg left in the nesting boxes. On any given day in the spring (which is the height of the laying season) sometimes I collect only three eggs, and sometimes as many as six. This is what I found today: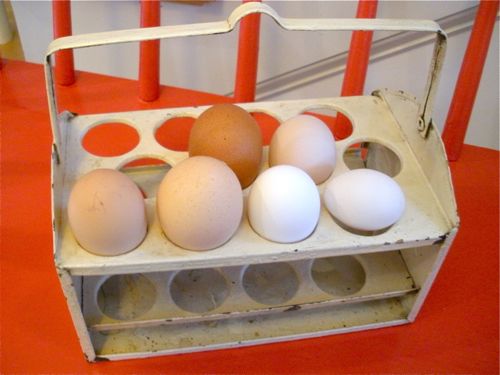 The dark brown egg in the back row was laid by Twinkydink! She is six years old and has been laying about every third day. The egg next to that is Lulu's. She produces a medium, light buff egg every other day. This is a shocking bounty from her because she usually goes broody in the spring. Of course, this year, with chicks coming, she shows no maternal signs. But, I'm happy to get eggs from her. The two eggs in the front left row are from the Golden Comets. See how different they are? The medium white egg is from a Polish hen – I have no idea whether only one is laying or they take turns. I get one a day, or sometimes every other day. The last egg is so tiny that it would fall through the hole if it wasn't sideways. That's from Betsy, the four-year old Bantam White Leghorn. Coco, although younger, hasn't laid an egg yet this spring. Nor has she gone broody. But last week she graciously let 60 preschoolers pet her at a story time. She's worth her weight in gold.
Speaking of eggs, for those of you filling Easter baskets, I hope you'll consider tucking in a copy of Tillie Lays an Egg. Until one of my hens does lay a golden egg, it's the book sales that keeps the HenCam going.