In just a few weeks there will be fifteen little fluff ball chicks in my barn. I've a lot to do before they come. I'm doing a thorough cleaning before they arrive. All living organisms have colonies of microbes living within them. The chicks will be going from the comparatively sterile environment of the hatchery to my property, which has had chickens on it for eight years, and wild birds and animals on it forever. It's not a bad thing for the chicks to be exposed to the real world, but it will take awhile for their immune systems to gear up. They'll be vaccinated for Marek's disease, but there are many other hazards out there. Ideally, the chicks will make use of the good germs and develop immunity to the bad. This works if the bacterial load isn't overwhelming. Since chicken diseases lurk in dust, I have used the shop vac and cleaned up the big barn. If you have the room, it's best to range your chickens outside on ground that has never seen poultry. Of course, that's not always possible. I have a pen of packed dirt. So, this weekend, during one of the brief moments of good weather, I took a pitchfork and turned the dirt over.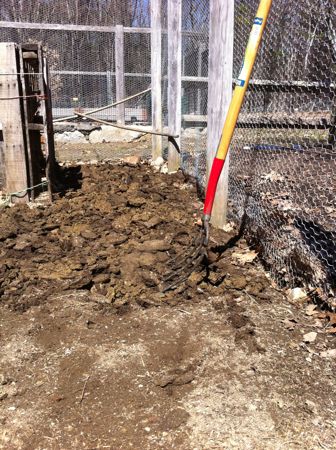 Sunlight is a potent disinfectant. Now, if only the weather would cooperate.
It was hard work. Lily did not help. She couldn't resist the brief warm spell's call to nap.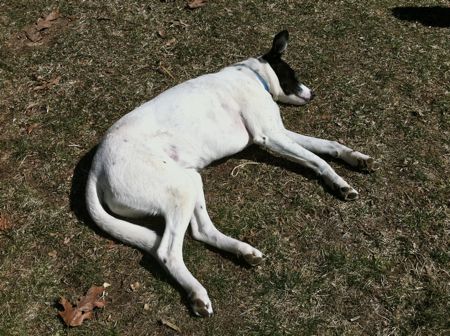 The goats said that despite all of the cold and rain, that it is springtime, obviously, because they are shedding. They bleated and me-ehhed and asked for a grooming, but I was too busy. So, Pip made use of an old horse brush that I attached to a post. Caper made do with a shovel. It doesn't take much to make a goat happy.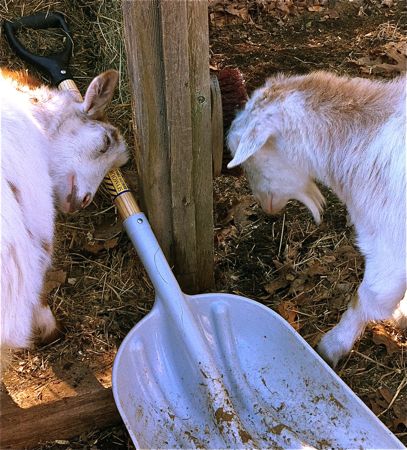 Next up is to construct the brooder.