Although I was appalled by Tori Spelling's outing with her chicken, and the press about house chickens, it's not always wrong to take a chicken (or two) away from the flock. I have two  Bantam White Leghorns that frequently go on road trips with me.  I call them the "actresses who play Tillie." When I do story times and school visits, one of them comes along. They are gentle, friendly birds who like to be handled. They are also independent and don't get flustered when removed from the flock.This isn't true for all of my chickens. The Australorps, Twinkydink and Blackie,  can't bear to leave the barnyard. Lulu is an anxious bird and paces when away from home. The Golden Comets are active hens and get bored when confined to a crate. But Coco and Betsy, my two Bantam White Leghorns,  seem to enjoy the excursions.They are so small that I use a guinea pig crate for them to travel in. They particularly like that they have the food and water all to themselves. In the winter, they like that they are somewhere warm and preen and fluff and loll about in the clean shavings in the crate.
Magic happens when the children meet a chicken. A classroom of twenty fidgeting children stills.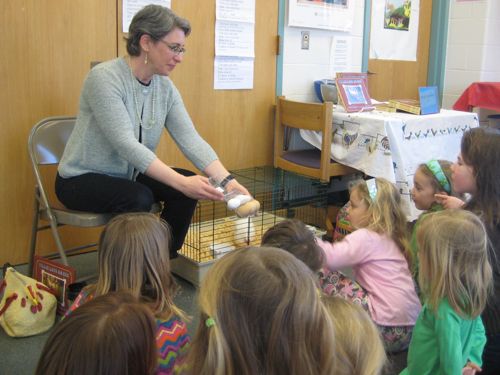 Here I am, at the Groveland Public Library, explaining that different chickens lay different eggs. What an important lesson it is that the eggs that we eat come from living, unique animals!
I'd like to think that their rapt attention is due to  my ability to tell a story, but I know that in truth, it is the tiny white hen that holds their attention. At the end of the program, I put the chicken on my lap and I teach the children how to pet a bird -gently, softly, quietly and in the direction of the feathers. Then, one by one, they come up and pet Tillie. Everyone is quiet and respectful and careful. Magic.
My good little hen is rewarded with a bit of cracked corn and is soon home again, outside with her flock.
If you are interested in having me do a school or library visit, please email me for details. Teachers might also want to make use of suggestions on my teacher's page.