I've always used a heat lamp to brood chicks, but this year I thought it'd be fun to put a few day-old chicks under a broody hen. I've been told that a mama hen not only keeps the babies warm, but also keeps them active, teaches them to feed, it's less work for the human, and is just darn cute. The idea is to take a broody hen, put her in her own house and yard and let her sit there on fake eggs for two weeks. You need separate housing for several reasons. First of all, chicks can't get in and out of a typical nesting box that's a foot off the ground. Those chicks will be running around the first day and you don't want them tumbling to the ground. Secondly, unless you have a lot of space, the other hens in the flock will not be kind to the little ones. Mama will do her best to keep the babies from being pecked, but if it's crowded, you'll have bloodshed. Also, the chicks need special food for the first few weeks; to make sure that they get it, but not your entire flock, they need to be fed separately. So, a small broody coop and yard for the mama and babies is the best set-up.
The broody hen will be fine in her isolation. When a hen goes broody she doesn't care about anything other than the eggs she's sitting on. She won't miss her friends. When the chicks arrive, tuck them under the mama at night, take away the dummy eggs, and in the morning the hen will be quite proud and possessive of her babies.
So, for this plan to work, I need a broody coop. Not only is my friend, Lauren Scheuer, an artist, blogger and chicken keeper, but she has power tools, and she knows how to use them! She loves building things from scrap wood, and I had a pile of lumber odds and ends and a discarded rabbit cage to work with. On an (amazingly) sunny day this week, Lauren, and her tools, and her fine dog Marky, came to my house to build the coop. I provided the coffee, the banana-currant bread, and an enthusiastic and encouraging audience.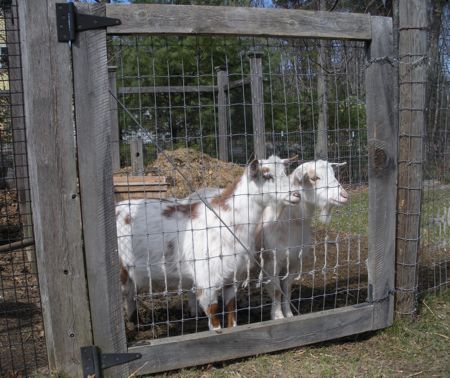 First, Lauren sketched her ideas. We considered an Egyptian-themed coop, but settled on a simpler model.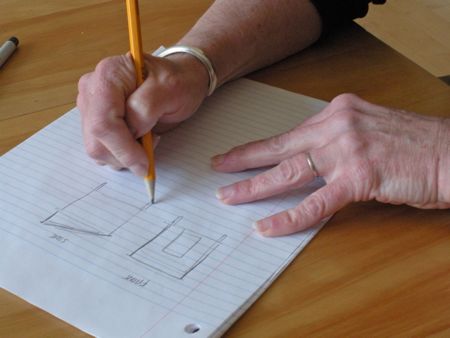 Lauren plugged in her power tools and got to work. I passed her screws. Marky came over to check on our progress.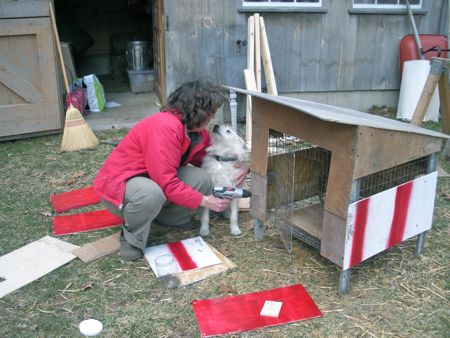 The red boards are from an outgrown soap box derby car.
Lauren let me use her electric screw driver!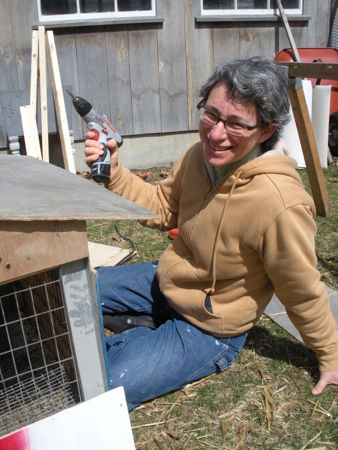 Scooter and Marky napped in the sun. Lily is not pictured here. She was too busy watching for UPS trucks. It's a full-time job, and somebody had to do it.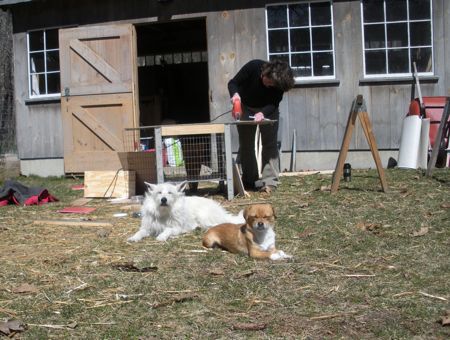 In just a few hours (and three cups of coffee) the coop was built. Now what I really need is a broody hen. I can usually count on Coco, Twinkydink, Lulu and Buffy to go broody in the spring, but so far, they have shown no maternal inclinations. Maybe if the temperature gets above freezing in the mornings, their broody switches will be turned on. If I don't have a broody hen, I'll have the time to turn the coop into that Egyptian folly that Lauren sketched. I'm sure she'd be happy to come back for more coffee and cake. I know my dogs would be happy to see Marky.
To see what Lauren thought about our broody coop day, read her blog, Scratch and Peck.