The phone rang at 6 am. The post office had a peeping package.
The post office isn't even open at this hour.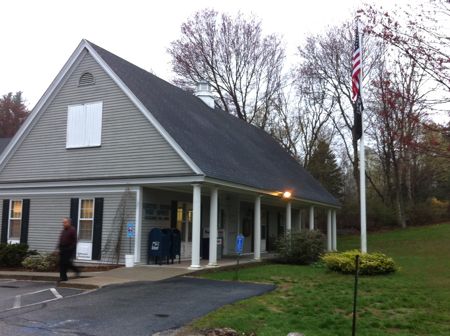 But this is a small town and when I knocked on the door, I was greeted with a smiling face and handed a small box.
"Glad you're here. It's starting to smell."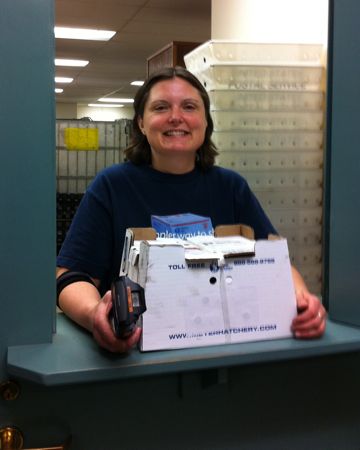 The chicks broke out of their shells Monday at Meyer Hatchery in Ohio. They can survive for two days, living off the yolk, but I was glad to get them home.
They need warmth, and so are shipped crowded 25 in a small box, their body heat doing the job. Unfortunately, two little cream-colored chicks were dead on the bottom of the box. The rest of the chicks were healthy and noisy. I dipped each bird's beak into the water fountain to get their first drink. One sip and they knew what to do. They also knew what to do with the chick feed.
In the next four months, each chick will eat 10 pounds of chick feed. Which is an amazing number when you realize that right now they weigh about an ounce each.
I'm not keeping all 23 chicks. Ten are going to a neighbor. He already has a backyard flock, but a hawk got a number of his birds, so he's replenishing his stock. Besides, he couldn't resist trying out a few new breeds. He ordered Buff Chanteclers and Barnevelders, along with the familiar, like the Speckled Sussex.
Speaking of the Speckled Sussex, it's obvious which ones they are – they're striped like chipmunks. But, even if all the chicks had the same markings, I'd know. The Sussex are running roughshod over the other birds. Barging this way and that. Little Lulus.
Do let your friends know about the brooder cam. This oh too ridiculously cute stage won't last long. Soon the chicks will lose their fluff and feather out.
More later, but right now I have to go to the barn. Just because.