Most hatcheries require a minimum of 25 chicks for an order. I wanted chicks, but not that many. Many of my old hens have stopped laying and I wanted young birds to fill the nesting boxes with eggs. My friend Ken, who lives a mile up the road, also wanted to replenish a flock that saw serious losses due to hawk predation (a problem now mostly solved with netting and restricted free-ranging.) So, we decided to share an order. Each of us have our favorite breeds, and we also wanted to try new ones. He wanted Dominiques. I don't like rose combs. I wanted Delawares, he wanted Buff Chanteclers. We both wanted Speckled Sussex and Rhode Island Reds.
The box of twenty-five chicks arrived yesterday. Two little yellow chicks were dead on the bottom of the box. My guess is that the box tipped while in transit, the chicks piled up, and the two died. Sad, but it happens.
I had the pleasure of all 24 chicks (there was an un-asked for extra, and it better not be a roo!) for most of the day. Ken arrived after work. He still had on a white shirt and nice shoes. We don't see clothes like that much around here. But, he's a dirt under the fingers sort of guy and squatted next to the brooder without even a glance at the dust. This is why we're friends.
It was time to sort the chicks. It was obvious which were the Speckled Sussex. They look like chipmunks. Ken was to have 3, I'd keep 2.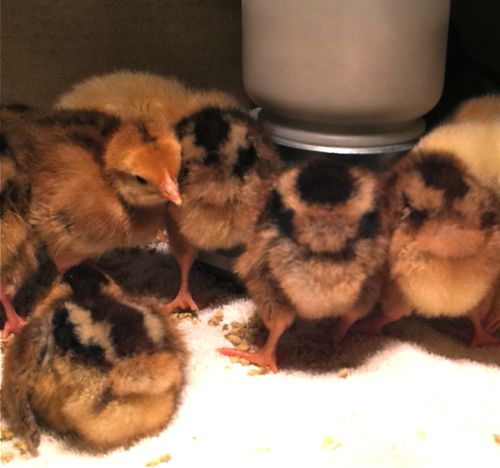 Look at those adorable fluffy butts. But, wait, what about that darker one? The sixth stripey chick with the solid brown head? What the heck is that? We decided to ignore it and divvy up the yellow chicks. According to the photos in the on-line catalog, my Delaware chicks were supposed to be yellow with faint dark markings on the head. There were a slew of peeping yellow chicks. Some had paler yellow heads. None had spots. Okay. So. Maybe it'd be easier to sort out the Buff Orpingtons from the Buff Chanteclers. Nope. All yellow.
Chicks should come in boxes like chocolates, kept separate in little dividers, with a diagram to the varieties.
We divided up the order as best we could. We'll let the chicks grow for three weeks, at which time we should know how badly we messed up. We might trade them off again. Or not. If he has all the Rhode Island Reds that's fine with me. Ken is adamant that he doesn't want Buff Orpingtons. I'll take those. But, if there's a rooster, he's keeping it!
(The breeds that I hope I have in my brooder are: 2 Delawares, 2 Welsummers, 2 NH Reds, 1 Rhode Island Red, 2 Buff Orpingtons and 2 Speckled Sussex.)