I wish this were an April Fools joke. But it's not.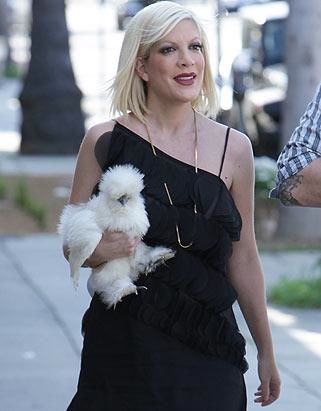 Tori Spelling is one of those Hollywood people who resort to reality TV to maintain some semblance of fame. She claims to love animals. She says that she wants to bring the farm life to Hollywood. She has four hens in an outdoor coop and this Silkie is her house chicken. Silkies are sweet, placid, docile birds. I'm sure that this little hen doesn't complain. But, I'm also sure that the chicken's needs are not being met. Just like toy dogs that are used as fashion accessories and are babied in ways that are truly abusive, I've no doubt that this chicken isn't getting the basics. Most important for chickens is to be in a stable flock of hens. This Silkie is kept apart. Also necessary is to have dust baths and be able to scratch in the ground. This hen is kept on hard floors. Chickens need to roost. This bird sleeps on a dog bed.
The photo was taken of Tori as she carried her chicken to an event at her boutique. It was staged for the paparazzi. Tori's publicists were successful. The photo made it onto the nightly news and in People. I hope Tori had food and water waiting in the store for the hen. Silkies overheat easily. I know that Tori isn't thinking of her animals because she also has a pet Nigerian Dwarf Goat. Just one. Goats should always have another goat companion. Tori's goat is also kept as a house pet. Although he is (supposedly) trained to "pee-pee" outside, he leaves goat berries everywhere in the house. Tori Spelling has a toddler. Children should not be living with animal feces in the home.
I wish this were a Hollywood phenomena, but in the April-May issue of Mary Janes Farm, "The Everyday Organic Lifestyle Magazine" is an article about how to keep chickens as house-pets. They recommend that the hens wear diapers, which I am adamantly opposed to. Chickens should not have cloth surrounding half of their body. They should not have their nitrogenous poo held close to their bottoms. The magazine does say that the diaper has to be cleaned every 2 to 3 hours. Really? You're going to be home, doing that? In the article was also a photo of two large hens living in a baby crib. Chickens should have a minimum of four square feet per hen. This was nowhere near adequate or appropriate. Nor was there bedding to scratch in, nor a nesting box, nor a dust bathing area. I was alerted to this by my friend, Trish Riker, in Michigan. Trish knows animals. She has sheep and chickens, and is a 4-H leader. Trish wrote a letter to Mary Janes Farm. I couldn't say it better myself, and so, with permission, I am quoting her here:
Dear Mary Jane's Farm,
I was initially excited to see that the April-May 2011 issue had an article on pet chickens. I was shocked however to see the piece on "house-pet hens". It is true that chickens are the oldest domesticated animals and do make great pets, but I am 100% sure that their history does not include baby cribs, diapers and toenail polish. I found this article offensive and bordering on abuse. Chickens are meant to scratch in the dirt, poop freely and have other chicken friends as they are flock animals. Too many people confuse babying with love. I love my chickens, therefore I allow them to be chickens, not my spoiled children fulfilling some empty need.
In closing I think this article offends the real farm girls and if this kind of work continues to show up in your magazine I will not be renewing my subscription.
Thank you,Trish, for speaking up.