Doesn't springtime make you want to clean out your closets? First on my list is gardening, but it's 20º F this morning, so I'm indoors and tidying up my linen closet. I haven't used this table runner for ages, so I'm going to have a give-away contest for it to find a new home.


It's a charming hand stenciled cotton runner that I purchased on eBay a few years ago. It measures 67 inches X 15 inches. Wouldn't it look nice with a centerpiece of a bowl of colorful dyed eggs?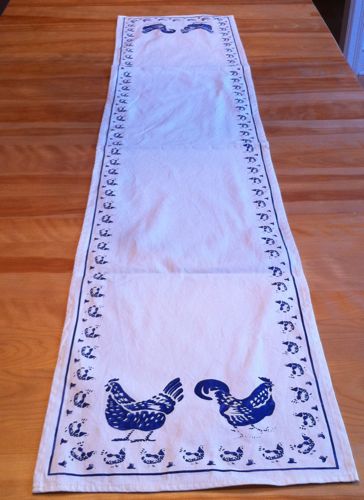 All you have to do to enter is to tell someone about my blog – either via Twitter, or FaceBook or an email. Then, let me know that you've spread the word about HenCam in the comments below, and I'll put your name in the drawing. I'll use a random number generator to select the winner. And, YES to my international readers – I'll ship anywhere! You have until Monday night, March 28, at 10 pm EST to enter. Please, only one entry per person. Good luck!
The contest is now closed. Thanks for entering!