It's sunny! It's above freezing! Enough snow has melted in the back meadow that I was able to move the goats' electric fence (note to self, bring in the fence before the first snowfall or you might not be able to for the rest of the winter), get the gate open, and let them out. They tippy-toed past the snow and trotted into the meadow.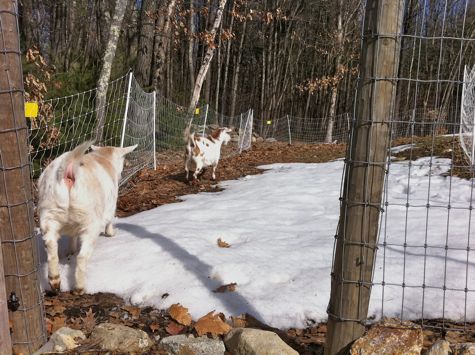 There's no grass to eat, but Pip did find a downed pine branch to nibble on. New places (or old places they haven't been for awhile) make goats skittish, so they explored, then got the wind under their tails and galloped back to the barn. They repeated this a couple of times, until, full and exhausted, they settled onto their big, flat warm rock in the paddock to chew their cuds.
Meanwhile, for the first time since November, there was enough bare ground around the coops that I could let the chickens out of their pens.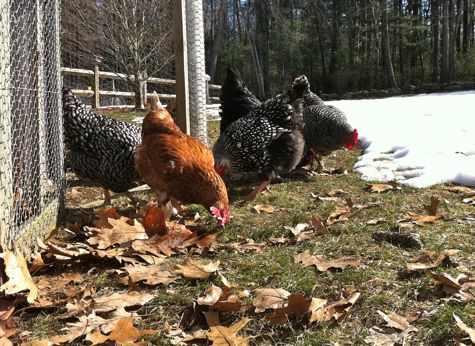 The girls from the big barn headed down the path to the HenCam barn.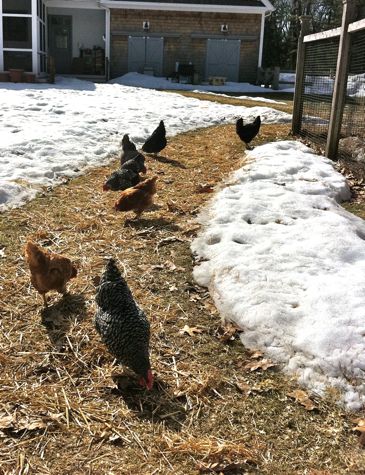 The two flocks rarely mingle, even when they are all outside free-ranging. I'd like them to meet and greet, because my plan is that in a few weeks I'm going to house everyone in the HenCam barn. The big barn will then become the home of the new chicks (arriving end of April.) First, though, the barn will get a thorough cleaning, a vacuuming and a scrubbing. I'll even dig up the packed dirt in the yard and plant grass. I want it to have two months of rest before the chicks move in.
So, I was happy to see the old girls heading over to the HenCam barn. They can see that run from theirs, and sure they've been missing the good stuff, they explored the run. The seven hens who live there came back in, too. They eyeballed each other. Buffy cackled. It would have been peaceful except for the two trouble makers – Lulu and Maizie. They puffed up, they banged chests, they went for each other's combs. I picked up one, and then the other. Set them down. Lulu remained huffy. Maizie had had enough. She headed back to the calm safety of the big barn.
When Maizie was younger, she was the hen that went for the kill. It was impossible to add new chickens to her flock. She would jump on a hen, pin her down, and peck at her head. When the Polish hens first arrived, I tried adding them to Maizie's group, but she'd run after them and beat them up. Maizie ignored their submissive signs and never let up. Luckily, I have two coops, and was able to move the Polish into the a barn where they were accepted. (Polish are notoriously hard to integrate into a flock. Their top knots are to chickens like a red flag to a bull. See here about the duct tape protective hats I made.) I did manage to add the Golden Comets to Maizie's flock, but that took weeks of providing them with hiding spots and separate roosts. I was close to deciding to cull Maizie – I don't like aggressive hens – but I was able keep everyone safe and keep her. Once things settled down, you'd never know that she is territorial.
I'm optimistic that after a few more interactions, that Lulu and Maizie will figure out how to leave each other alone. They're too old for this nonsense.