Snow is falling. Snow will keep falling. Then we'll get sleet. We're housebound and barnbound and restless. What to do? Make pie. Not just any pie. I want pie that takes me out of this deep freeze. I want summer.
I keep homemade pie crusts, rolled out into 12-inch circles, tightly wrapped, in my freezer. I get out two. One breaks. No problem. I'll use that for the top crust. You'll see.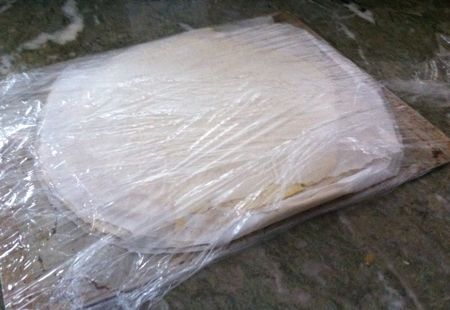 I pull out a bag of peaches. Last summer I bought a bushel of seconds – tree-ripened, local peaches that had a blemish here or there so the farmer sold them for very little at the end of the farmer's market. I peeled and sliced the peaches, froze them individually on a cookie sheet and then bagged them. That's the trick to having individual peach slices and not one huge block. I vacuum packed them, and into the freezer they went.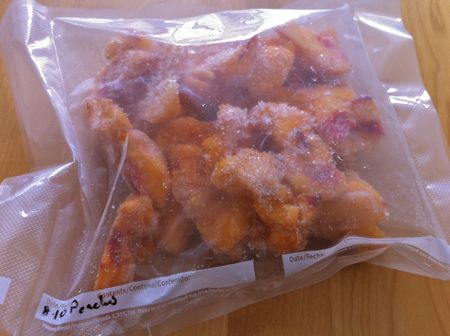 I hope you're not expecting a recipe. This is the sort of pie I throw together. But I'll tell you what I do.
Preheat the oven to 350º F. Let the pie crust defrost enough so that it can be put into a ceramic pie plate.
Toss the frozen peaches with some brown sugar, instant tapioca (to soak up the juices) and some minced crystallized ginger (optional, but ginger is so good in this pie – it brightens it up.) Put the pie filling in the pie plate. Take the broken crust and cut decorative circles with a cookie cutter and place on top.
Bake for about 50 minutes until bubbly and you'll have summer in winter.