Well, the cat (ahem… chicken) is out of the bag, and I can now tell you about being on It's Me or the Dog on Animal Planet.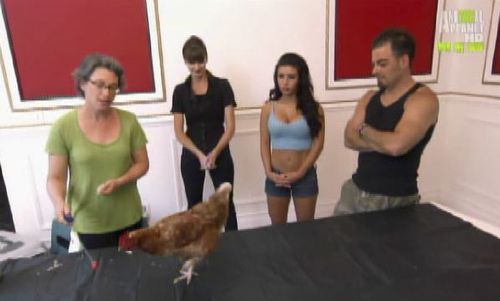 Last July I got a call from a producer from the show. He wanted to know if it was true that learning to train chickens is an effective way to learn how to train dogs. The answer is a resounding YES. There's so much emotional neediness that owners bring to their relationship with their animals. They think that their dogs should behave out of unconditional love. But, love isn't enough to teach a dog to sit quietly, and to pee outside, and to not snarl at guests. To get a dog to do these things, and the other behaviors that make a dog a good household companion, requires training. How to train is made clear by working with chickens.
Dog owners often resort to baby-talking, pleading, bribing, yanking and yelling, which is ineffective at best, and counter-productive at it's worst. Instead, I use a clear form of communication called "clicker training." This works on all species, from fish to elephants; I use it with my chickens. Training a chicken shows that getting angry and using punishment, or conversely, sweet-talking and tossing food, will not get you the behavior that you want. What is effective is to break down the behavior into small steps, and to reward each moment on the the way to the end goal. I use a clicker because it marks each step in a clear and distinct way. Using this technique, I've taught my chickens to follow a target stick (note the one in the photo.) A trained chicken will go anywhere with confidence. Coco posed with aplomb on a toy truck in the MARTHA studios. Philomena, the hen in this episode, was willing to walk over scary shiny black plastic. As you can see in the show, this same technique was applied to the poodles and the pig, and didn't they look relieved that their owners were finally communicating in a way that made sense to them!
Watching the show, you might think that it was exaggerated, but Matt and Melissa (the dog owners) were even more eccentric in real life. The 6 minutes that I was on was edited down from 2 1/2 hours of filming. You never know what the producers are going to do, so I was relieved that I came across as being the sane one, and that my training technique was clearly presented. I know that my name was misspelled, but otherwise, I was pleased with the show. What did you think? If you missed it, it'll be on reruns. Check the Animal Planet listings. It's also available on iTunes (The episode is titled, The Castle Goes to the Dogs.)