In the summer there's running water in my two barns, but in the winter the pipes are drained and I have to get water from the laundry room inside the house. Keeping everyone in fresh water took a lot of walking back and forth – a trip each for the two chicken waterers and another for the goat's pail. Invariably some would spill on gloves or jeans. It was one chore that set me to cursing under my breath.
Luckily, I came up with a solution before the big storm!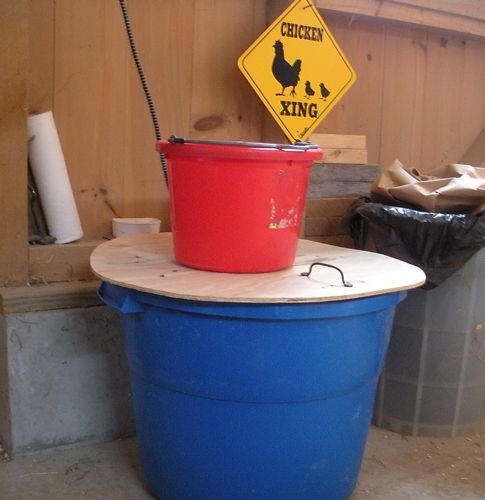 This blue tub is a heated water trough designed for horses! It can hold 16 of those red buckets worth of water, a week's worth, including what my thirsty, fussy goats require. We still have to cart water from the house, but it can be done in one fell swoop – at a day and time of our choosing (not when there's two feet of snow falling!) When the wind is biting cold and the snow is deep, it's such a relief to have water in the barn.
I still haven't found a solution to keeping Candy's waterer from freezing.  We swap her bottles twice a day; sometimes they freeze in between but it's not a problem – she likes to drink from the chicken's waterer.