Every year the Concord Museum selects over thirty children's books, both classic and recent. A volunteer decorator is matched to each book and the fun begins. Ornaments are crafted and clever details designed. In December, trees are set up throughout the museum, amidst 18th century highboys and the lantern made famous from "one if by land, two if by sea." The decorators decorate. Charming, whimsical, funny, poignant. It's all there on these trees. If you love Christmas trees, childrens' books, history, or crafts, you have to visit. If you want a charming and whimsical holiday tradition (not crass and commercial) you have to visit.
I am thrilled to pieces that this year, Tillie Lays an Egg was chosen to be a tree at the Concord Museum. A family that I've never met, and have had no contact with, decorated the tree. I got a peek at it today. It's perfect. First of all, they must be a 4-H family. There are 4-H ribbons on the tree! How clever is that? Go ahead, use the idea! There are  rubber worms! (Tillie approves.) To top it all off (or should I say bottom?) look at this tree skirt. Sewn out of feed bags! You can use that idea, too! (If you do, please send a photo.)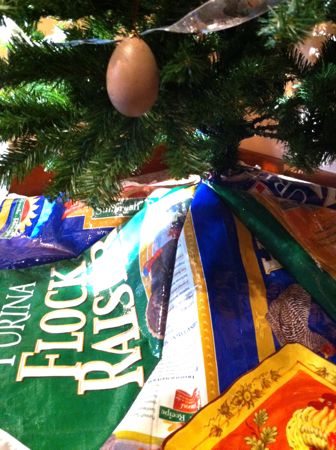 This Saturday, December 4, from 1 to 4, I will be sitting by my tree signing books. I won't be alone – Ben Fink, the book's photographer, will be here from NYC. This is the first time we've signed books together. Come and say hello.