The book signing at the Concord Museum was about as much fun as an author can have. I got to spend the day with my friend, Ben Fink, who shot the photos for Tillie Lays an Egg.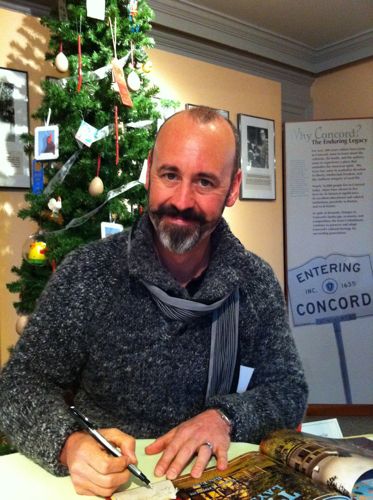 Behind him is our tree. Those long brown decorations are rubber worms. I think our tree was the only one of the thirty at the museum that had worms on it. Every child declared that they wanted worms on their trees, too. A few stopped to read my book.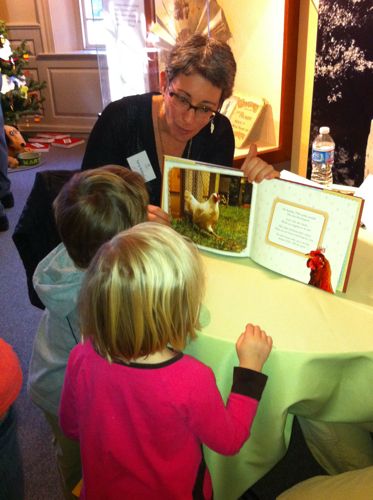 We were in the same room as the Martha Speaks tree, and I was thrilled to pieces that Susan Meddaugh, the author, was there to sign books! I was star struck!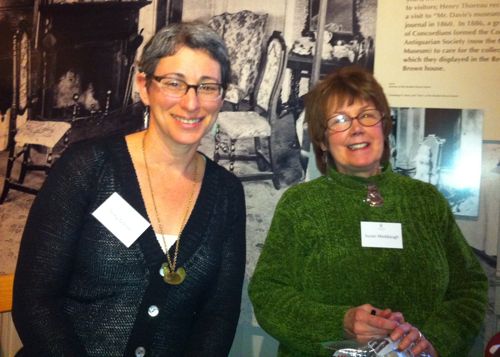 We chatted about how important it is to have our characters be true to the nature of the animals that they are. When the Martha books became a PBS series, Susan insisted that Martha still be dog – which means no flying or other superpowers. Susan really does know dogs, and it comes through in her writing.
(BTW, note the necklace I'm wearing – it's a 1950's lucite chicken with green rhinestone eyes. I love that my job lets me get away with wearing such things.)
I got to meet other authors, too. Ed Emberley was right next door. And Clare Beaton came all the way from England with a suitcase filled with her handmade decorations that filled the large tree in the center entrance.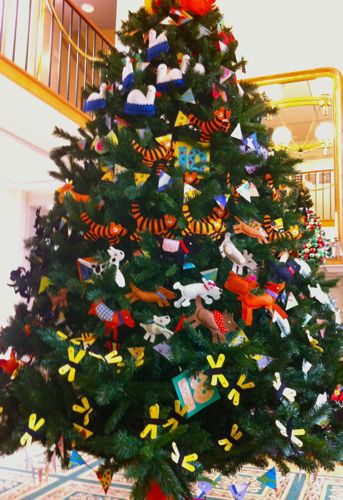 Each tree had details to ooh and ahh over. There were garlands made from feathers and from dog leashes, there were owl babies, fairies in flowers, and sailboats. There were jellyfish with pearl stingers, a tree skirt that looked like apple pie, and another like thick and twisted tree roots.
In my home we celebrate Chanukah. We keep the gift-giving modest. One present a night. Years ago, even before we had children, my husband would give me one children's picture book a night. If you're stuck on your holiday gift list, you might consider doing the same. There continues to be no better way to spread creativity and joy.