The CI surgery was early yesterday morning, and I was discharged from the hospital late in the afternoon. I was still woozy from the anesthesia, on potent painkillers, and downright exhausted., but it was good to be home. The dogs greeted me with enthusiasm, so much from Lily, that I had to toss her a huge cookie to keep her from leaping on me. (The dog treats being in a jar on a convenient shelf in the kitchen.) Steve held my arm as I shuffled down the hall to the living room, where I collapsed (upright) onto the couch.
After eating her biscuit (which took all of 40 seconds,) Lily noticed that all was not right with me. I smelled funny, walked slowly and had bandages on my head. Lily decided to make me better.  Petting her would help – so she stood by the couch to get scratched. When I couldn't reach over to get her favorite spot she realized that the situation was worse than she'd thought. She found her biggest toy, one she rarely plays with, but I guess she thought that only a big toy would be the incentive that I needed to get up and back to normal. Lily tossed the toy, shredded a corner, and shoved it at me. None of which made me any better. Sigh. She climbed into her chair, the one that faces the couch. She'd nurse me back to health by vigilantly keeping an eye on me. Which was boring.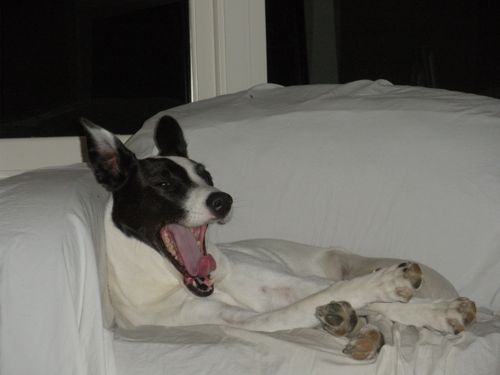 Scooter also greeted me at the door when I came home. He did not notice anything amiss. But, he was pleased that I was on the couch. He joined me, and he's been plastered next to my side ever since.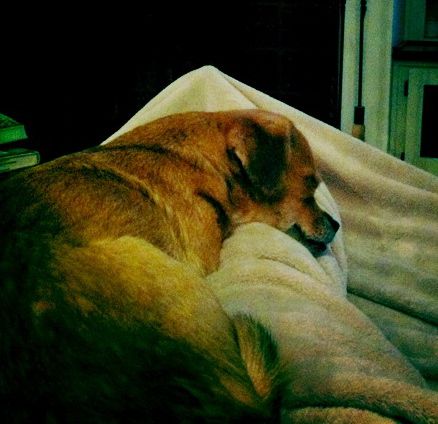 I'm sure to heal with two such nurses on the job.
All of your well-wishes have also helped! I won't be able to respond to your messages individually any time soon. I'm on Vicodin, and just writing this post has taken ages – it's interesting what the drugs have done to my ability to spell and construct a complete sentence. Time for a nap. With Scooter.