I have a pumpkin patch on a barren patch of land in the back meadow. Every year I dump on compost, then make hills with good dirt, and plant seeds. Invariably, I get volunteer tomato plants from the compost. This year a bunch of Italian sauce tomatoes appeared. Shaded by the huge pumpkin leaves, they didn't ripen. The pumpkins have been harvested, and the vines pulled up and discarded, but the tomatoes remain – small, hard and green.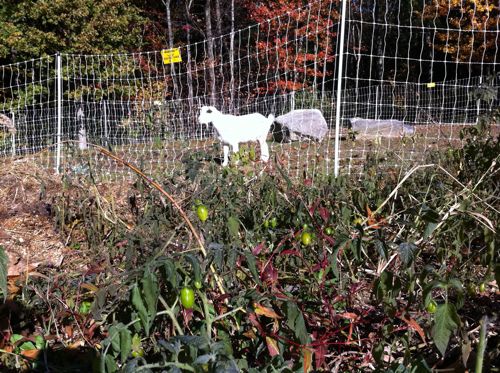 The weather was perfect yesterday for collecting the last of the tomatoes and putting all of this past summer's compost onto the pumpkin patch. Notice  who is watching on the other side of the fence.
Goats are fussy eaters. They don't like tomato leaves. But, Pip has discovered that small green tomatoes are fun to eat. He can just barely fit a whole one in his mouth, then, one bite and it bursts! He wags his tail with delight. It's like seeing a (human) kid chomping on one of those fizzing sourballs.
I tossed the boys some vines.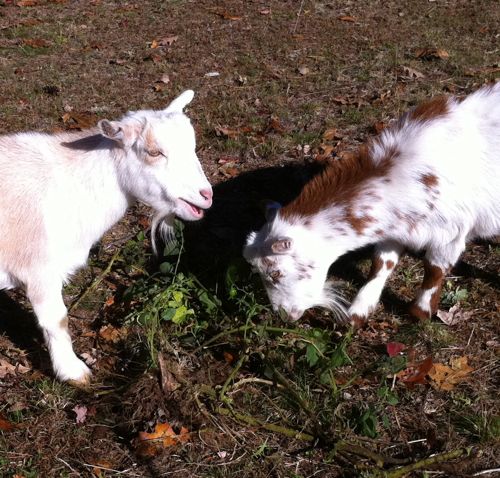 Caper is just nosing around, suspiciously, but Pip is having a grand time.
Meanwhile, Steve was hard at work, moving compost. Won't this make for a beautiful pumpkin patch next year?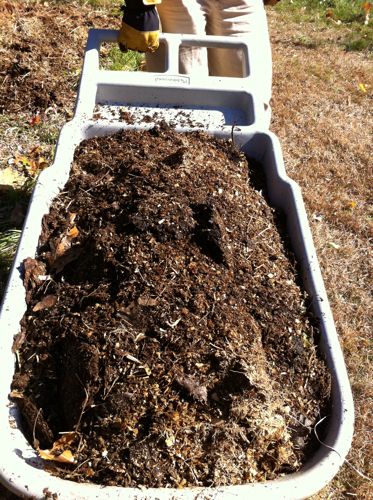 This is my "lazy person's compost." I never turned it. Not once. The chickens did all of the work.
Here are the last of my garden's green tomatoes. They taste delicious in a long-simmered stew, but they just might end up as goat treats. It's hard to resist feeding a tail-wagging goat.