The summer that I was five years old, my brothers went to sleep-away camp. My mother, worried that I would be lonely, got me a guinea pig. His name was Chester and he had belonged to a family who no longer wanted him. He was full-grown and a chestnut brown and I thought him the most beautiful animal in the world. I didn't miss my brothers at all. A few weeks later, when told that my brothers would be coming home soon, I howled and cried, thinking that their return meant that I had to give Chester back. Given a choice between siblings and Chester, I much preferred the piggy. As it turned out, I got to have both.
Chester lived in a plastic baby bathtub in my room that was layered with newspaper and bedded with hay. Hay at the pet store was expensive so we went to a feed store. It was an old building next to a railroad track. I was allowed to go into the loft and fill a paper bag with loose hay and it didn't cost a thing. I remember the slants of light on the wooden floor, the quiet, and the green of the bales, a color unique to hay. It was timothy, and I recall it's ticklish feel. Mostly, though, I remember the smell. There is nothing like the smell of hay.  It speaks of meadows and grazing animals, and of animals closed up in fragrant barns in winter. Later in my life, I would know what it was like to throw bales into a moving wagon, and the itchiness of sweat mixed with hay dust after a long day of working on a farm. I'd know about waking at five am to feed a barn full of hungry horses, and of opening bale after bale and tossing flakes to the animals. But, even at the age of seven, before I'd experienced any of that, the hay spoke of it, and I knew.
I bought hay for the goats today.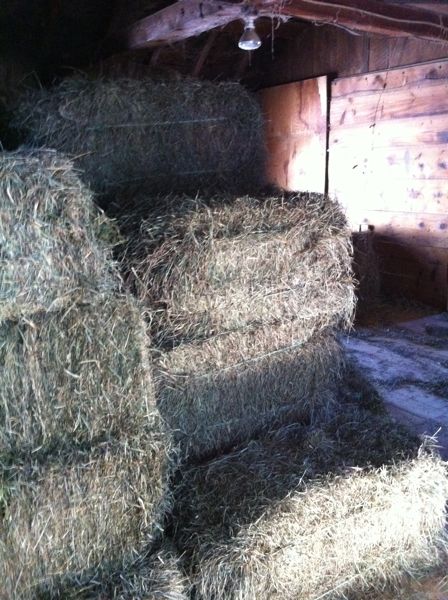 I bought two bales. I could buy more and have it delivered, but it makes me happy to go to Erikson Grain. The guy who loaded my car asked, a bit incredulous, "in here?" I drive a BMW. "Yes," I said. The BMW smells just right now.