Tillie Lays an Egg is a work of fiction. She didn't really lay her eggs in those silly places. However, it was inspired by a bird who did not bother to lay her eggs in the nesting boxes. It looks like I have another one of these hens.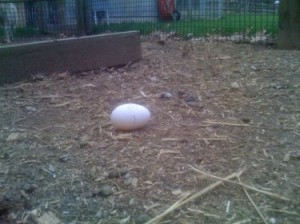 An astute HenCam viewer emailed me with concern. Tina was walking funny. Was she ill? No. Tina was about to lay an egg. Most hens hunker down in a nesting box, where they are safe and comfortable. It takes a bit of an effort to lay an egg. Some chickens are drama queens and make it clear how hard they are working. It's almost as if they squinch their eyes shut and push. Others sit prettily, lay an egg, then daintily leave the nest as if nothing has happened. Others, lay their eggs, and then loudly announce their achievement.
Then there are the hens who would like to ignore the whole business of egg laying. They'd rather not take a moment out of their busy days to lay their eggs. If you know a toddler who refuses to go to the potty, and has that look, well then, you know what Tina is like. She walks around, getting more and more uncomfortable, and finally leaves an egg wherever she is.
Sometimes hens avoid the nesting boxes because of fear – perhaps a predator has been in the coop. Sometimes, there aren't enough boxes for the number of chickens. Or, maybe, there's a nicer place, like a pile of hay in the barn. None of this applies to Tina. The other day she left an egg near the chicken ramp. I didn't see it until I closed the girls up for the night. Luckily, Tina lays white eggs that are visible in the dark. There's not much that I can do about this except to watch where I step.