On Monday morning, we packed the car, put Coco in her travel crate, bedded with fresh, pretty yellow straw (Martha Stewart-worthy) and headed to NYC. It rained and rained, but Coco, as always, enjoyed the drive. Five long hours later, we pulled up at the hip, gorgeous, SoHo Grand Hotel. I got out and explained to the doorman that we had a chicken to unload. It turns out that the doorman volunteers at an elementary school and was delighted to usher in a picture book star. He, and the rest of the staff took very good care of us.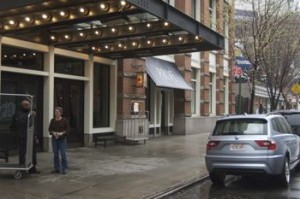 Coco liked the stylish lobby.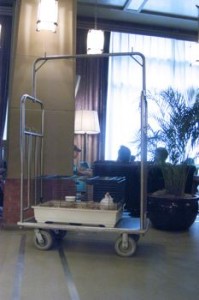 She also really liked the wallpaper in our bathroom. Look closely – those are doodles of birds!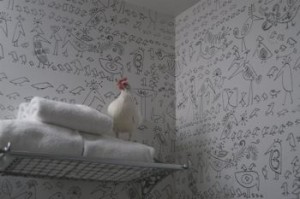 There was torrential rain on Tuesday, but that didn't affect Coco's mood. We traveled by chauffeured SUV (courtesy of Scholastic) to the television studios, where we settled into someones office while we waited. I had my makeup and hair done by professionals! Can you tell?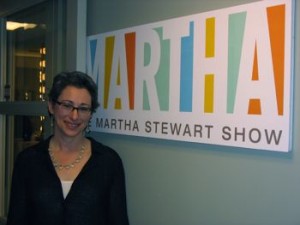 Everyone came by to meet Coco. Here she is with Lenore Welby, one of the show's producers.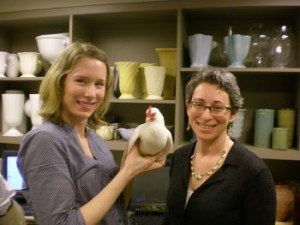 Lenore and I rehearsed my segment on the set. I wouldn't meet Martha until the taping.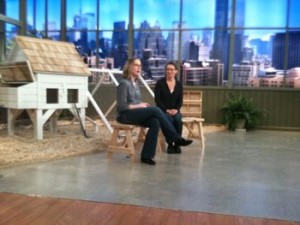 My 2 minutes of fame would be the last segment of the show. It's taped in real-time, although sometimes it takes longer (the egg dish didn't set when it was supposed to – I don't know how they're going to edit that!). We had a long wait. Coco went back in her travel crate and was placed near the door to the studio. I was supposed to stay in that spare office (there's not one large room where all of the guests wait; we were kept separate). But, I kept going back to check on Coco. Just after the show started, I went to the staging area and she was gone! It turns out that the tucked away corner that she was put in was actually the freight elevator which was now down in the basement! We found an official-looking man wearing a headset, who got the elevator back to our floor. We moved her crate to a safe place under a table.
Finally it was time for me to go in front of the cameras. Coco was a star. Despite the distraction of chickens behind her in the coop, she posed on her toy truck. She looked prettily at Martha. I think that I strung some coherent sentences together. I'll have to watch the show to see.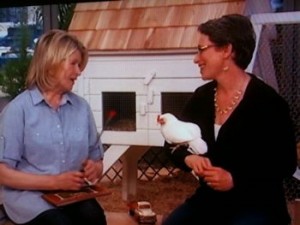 MARTHA airs at different times and stations depending on the region. This chicken show should be on April 2.