In celebration of my appearance on MARTHA, I have a giveaway contest! This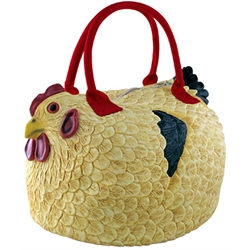 came in the goody bag at the MARTHA show. I already have one (or course, I mean, how can you resist something so adorable?) So, this one is up for grabs. All you have to do is send an email to me, with "chicken purse" written on the subject line. (You must follow these directions or your entry won't end up in the drawing!) You don't have to write a message, but I'd love to hear from you!
One entry per person, please. This contest closes Friday, April 9 at 10 pm EST.
If you don't win, you can always purchase it from mypetchicken.com.
It's a gorgeous, sunny, warm day. I'm going outside to plant peas – talk with you later!