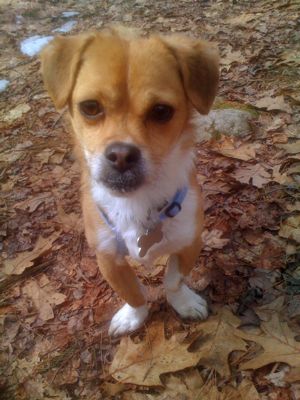 Three years ago, I decided that Lily needed a dog companion, one that she could rough-house with and challenge to tug-of-war games. On petfinder.com, I located a twenty-four pound corgi-mix who had just found her way into foster care and had whelped a litter of pups. I went to see. I was sure that the boy pup was just what I had in mind – a corgi-terrier -a tough mid-sized farm dog. I was wrong. Dad must have been a chihuahua. Scooter maxed out at 10 1/2 pounds.
I've never been a toy dog lover. I've no desire to dress up a dog, or baby a shivery, nervous, twitchy little thing. I think he's relieved. He does shiver, and likes to sleep in sunny spots, but Scooter hates, hates, hates, to wear coats. He does not want to be carried around. Although he doesn't play tug-of-war with Lily, he does bite her toes and makes her chase him.
Today we went for a walk in the woods. It was icy and muddy, but Scooter kept up. He leapt raging rivulets of water! He waded belly-deep through cold mud! He sniffed smells that needed sniffing and he left his mark on every three-inch high mound of turf. Scooter says he might be little, but he's no toy.
This doesn't mean he doesn't love his creature comforts at home. Even the big dogs get to curl up and rest.