It was so beautifully warm and sunny on Saturday, and the girls were so eager to get onto the lawn, that I let them out. I stayed in the backyard with them – there's that nesting pair of hawks the nearby woods to watch out for – but the hens were unconcerned. Most of them took dust baths under the beech trees, or scratched around in the bushes.
But what's this?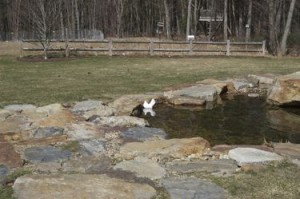 Eggers is going wading! I have never, ever seen a chicken take a water bath. She looked quite happy. She found a rock, exactly the right height to stand on. Then, she sat down in the water.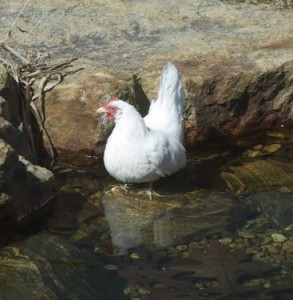 Eggers took long drinks of water. Finally, she was done.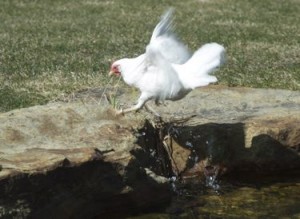 As amusing as this behavior was, it was cause for concern. Why would a chicken choose to sit in cold water? I kept an eye on Eggers. It was soon clear that she wasn't feeling well. The next morning she didn't jump off the roost to get the scratch corn. She stayed huffed up and sorry looking. Eggers looked uncomfortable. Egg bound, perhaps? I think that her cold-water bath was an attempt to make her bottom feel better.
Although I couldn't feel a stuck egg, she did seem sore to the touch. So, inside she came for a warm water epsom salt bath.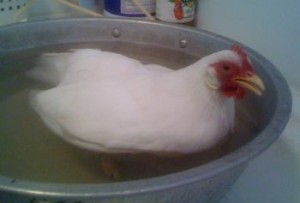 As you can see, she liked it. Eggers didn't try to get out.
Next, a rinse off. She liked that, too.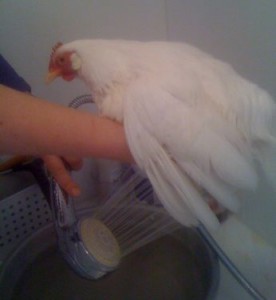 Next, a towel dry. She didn't like that so much.
Eggers is now staying in a dog crate in the barn, where I can keep an eye on her manure production (normal) and egg-laying (not happening.) I put her on antibiotics, and after a day, she perked up.
I'm not sure what's going on. Eggers is my sad-sack, Eeyore bird. For a White Leghorn, she is uncharacteristically droopy, even when perfectly healthy. I'm worried because Snowball had a similar list of symptoms (albeit without the bizarre pond-wading) before she died. So, Eggers will be pampered and given antibiotics for a week. She's the lowest on the pecking order, so she seems pleased to be all by herself. Whenever I come into the barn, she demands more food. Can chickens be hypochondriacs?