I appreciated all of your cheerful send-offs for my road trip. It was a really, really long drive, but worth it. I haven't had a visit with my friend, Melissa, for years. I arrived early afternoon, met her new dog, took a short walk, and chatted. Ate dinner. Talked some more. Mostly, we talked about animals. I think I finally got around to mentioning my children sometime after dinner. Did I mention that she's my best friend? I've known her thirty years and we're still not tired of our favorite topic.
On Saturday I drove through some gorgeous country to get to the Wild Center.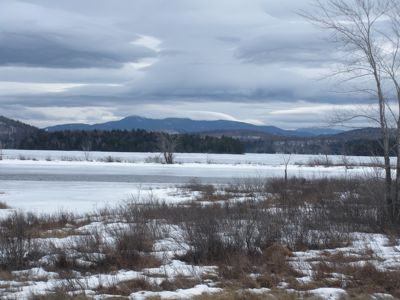 As I was leaving, near dusk that afternoon, at this very same spot, a bald eagle was flying across the frozen lake.
I brought my camera, I even had it charged up, but I was so busy that I didn't use it! First, there was storytime for a crowd of children. Then, I got a backstage tour of the Center's animals. Otters! Ravens, a porcupine, a muskrat, fish, turtles! Then, it was time to do my chicken keeping talk. There was a big crowd who listened attentively, laughed in all the places I'd hoped they would, and at the end had good questions.
Meanwhile, volunteers were busy making masks with the children. I'd hoped to join them, but was still deep in conversation. I did manage to snap this, though, with my iphone.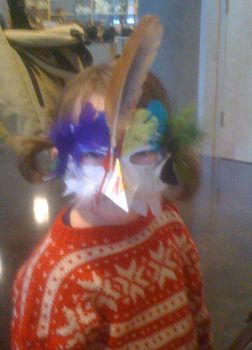 Each child got a feather from my flock, and then a handful of craft feathers. Look at how stunning Petunia's wing feather looks here!
The drive home was 300 miles, almost all in pouring rain with gusting winds. Oh, and there was freezing rain in the mountains. But, it was all worth it. I hope they invite me back. I'd love to see The Wild Center in the summer. Besides, Melissa and I haven't finished talking about animals.