At 7:30 this morning a woman from the state agriculture department drove up, pulled on protective gear and booties, and tested my flock for two serious poultry diseases, Salmonella pullorum and avian influenza. It's Massachusetts state law that birds that are transported anywhere off the premises must be tested. It's a free program.
We were ready for her. The chickens were inside and easy to catch. Lily Dog said that she was a blue-suited alien, but after a couple of tossed cookies, decided that blue-suited aliens are fine with her.
The procedure is a simple prick of the skin under a wing, and then the blood is collected in a vial. It's a bit messy, but not a big deal for the hen. You might notice some blood on the girls today. Don't worry about them!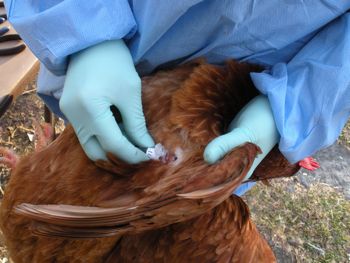 Each hen gets a silver band to prove that she's been tested. It's rather like a rabies tag for your dog.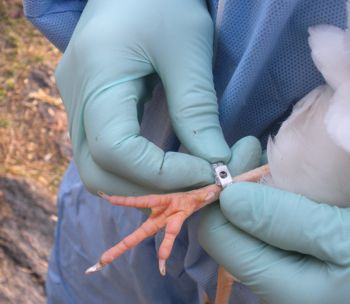 Because it's been so rainy and muddy and the girls have been stuck inside, they were a bit dirtier than normal. The state tech had on her blue suit. I had on my jeans. After she left, I decided that I might as well clean the barns. When I came inside, my pants and jacket went right into the wash. So, that's one clothing change for the day. I've a feeling it won't be the last…