I'm a member of Les Dames d'Escoffier, which means I get to hang out with some amazing, talented, accomplished women in the food world. Last night, my local chapter had a Chocolate and Caramel event. We met at Kelly Delaney's Cakes for Occasions kitchen. Lee Napoli, one of the most inventive chocolatiers in Boston, showed us her truffle-making technique. It's all about very good chocolate at the right temperature.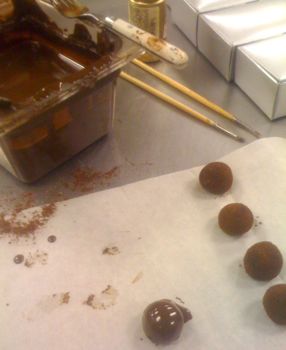 Next, Denise Baron, of Burton's Grill, made caramel. I've struggled for years to get caramel right. The step where you boil down the sugar is so tricky! It seizes up. It burns. It boils over. It doesn't get dark enough. Do you use a spoon? Wooden or metal? Wipe the sides down with water? Denise had a trick. Add a tiny amount of lemon juice to the sugar, and let it boil. There was over a hundred years of food experience in the kitchen last night, and none of us had ever heard that one before. It works! Here is a photo of the perfect, fresh ginger-infused caramel.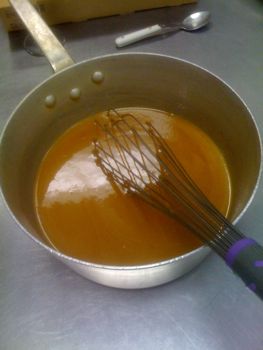 Next, Kelly taught us how to make buttercream roses and sent us all home with our own cupcake cake hearts.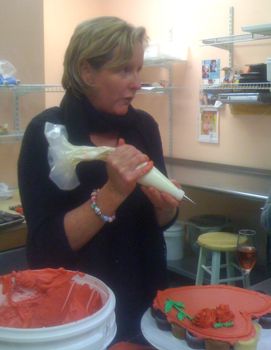 When I got home, my husband got a truffle, a cupcake and a spoonful of caramel. After all, he closed up the barns so I could make sweets. This morning it was cupcakes for breakfast!