It's raining. The chickens have heads of cabbage to keep them busy and full. The goats hate to get wet. They're stuck inside and bored. I have one of their favorite foods in my fridge's vegetable bin – Italian flat leaf parsley. I thought I'd be nice to them and feed it to them instead of cooking with it. I carefully made my way out to the barn. I have to stomp through the snow because the shoveled path is too slippery. The boys look delighted to see me. I offer the parsley. They sniff, but, they don't even nibble. It's wilted! They look quizzically at me. Why would I be showing them this worthless stuff? Don't I know that if it's hangs limp, that it's inedible? They think, "that goat maid is well-meaning but none too bright." I get them some hay.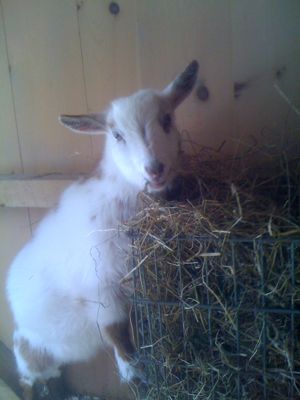 They might be fussy, but they are polite. Caper thanks me.
I feed the parsley to the rabbit. Candy says that it's delicious. There's no mushy spots and the color is a nice, deep green. What do those silly goats, know, anyway?