Yesterday I decided to go clothes shopping. I put on my favorite pale green corduroy pants. Then I went out to say hello to the goat boys. They gave me a happy birthday greeting that entailed nose kisses and goat hugs. I went back inside the house and changed. Which leads me to my first fashion tip of the day:
#1: Always have a second outfit at the ready.
Women's magazines are getting on the "there's a recession, let's all be frugal" bandwagon. I recently read that the way to extend the life of your clothes is to wash them less. Maybe that works if you don't get dirty. Impossible here. I also read a recommendation that you take clothes to the dry cleaners less frequently. Huh? When my clothes need washing, it's obvious! You can't exactly brush off muddy hoof marks. With that in mind, here is the next rule:
#2: Only buy clothes that you can throw in the washing machine. Avoid buying items that need dry cleaning, or each time you wear them (and that wearing might last only 10 minutes) you will hear the cash register go ka-ching! $5.00 please!
I bought a cozy, silky, beautiful robe yesterday. Not only is is machine washable, but it's dog hair colored! How many of you buy clothes thinking, "oh, good, the dog hair won't show"?
#3: Buy clothes that match your dog and cat hair.
I saw a very nice pair of pants yesterday, but even hanging on the rack, the material attracted lint. I could only imagine what it'd look like in a house with my world-class shedding dog, Lily.
#4: Avoid purchasing apparel that attracts lint.
Here are Lily and Scooter. They've just had a nice scratch.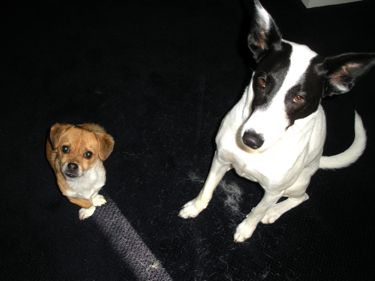 Notice the dog hair on the carpet. I selected that gorgeous plum rug before I owned Lily. It's not as easy to match decor to one's pets as it is to change clothes.
#5: Keep a lint roller and vacuum cleaner on hand at all times.
That's all for now – I have to go do laundry.