… roost together.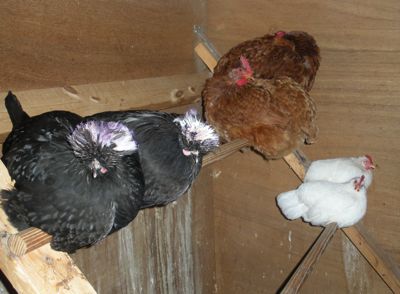 Although it might look, during the day, as if your hens are all milling about together, getting along fine, in truth they form bonds according to breed. This is very obvious at night when they settle in to roost.
We aren't surprised to see wild birds flock. Geese migrate in V's. Blackbirds fill trees in the fall. Pigeons line up on telephone lines. But, when it comes to our own chickens, well, they're all chickens. And they're part of our backyard community. And we think they should all be friends. But, they haven't lost the instinct to be in a flock. I don't know if a hen is aware of what she, herself, looks like, but she does recognize others that look like her, and she wants to be with them.
What about the hens that don't have look-alike buddies?
Lulu would like a best friend. She's tried to be friends with Buffy, but not only don't their feathers match, but neither do their personalities. Lulu is a busy, active, crazy-sort of hen. Buffy is a settled, older, quiet girl. Buffy tries to be polite to Lulu, but you can tell she wishes that Lulu would just go away.
At night, Buffy, content to be on her own, settles into a nesting box. Lulu sleeps in the one next to her. But, even in this photo, you can see how mismatched they are.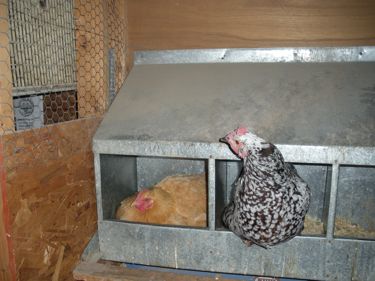 Of all of the hens, Lulu has shown the most interest in the goats. Lulu thinks it's too bad that they don't have feathers. Or roost.