I've often said that people who claim that they don't like to cook actually would like to, if only their kitchens weren't so frustrating. Sometimes the lighting is bad, or the counters are an uncomfortable height or the position of the stove makes them feel like an indentured galley slave. More often, it's the little annoyances, like not being able to find the right pod lid. Why do people store lids in that awkward drawer under the oven? And keep lids that don't fit any pots owned by them in the last twenty years? Do yourself a favor. Clean out that drawer!
I keep the pots that I use frequently hanging from a rack. The once-a-year specialty items (like the stock pot and the food mill) are in a closet.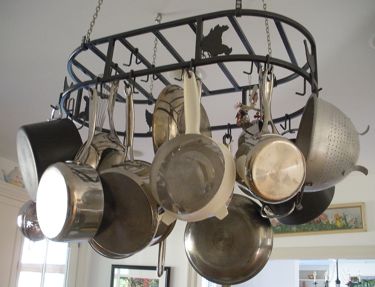 Yes, this is like Tillie Lays an Egg. Find the hen!
The utensils that I use daily are kept right at hand next to the stove. I do not want to rummage around in a cluttered drawer for my favorite spatula! The container is a trophy for the "Highest Scoring Pen" of Plymouth Rocks. 1894.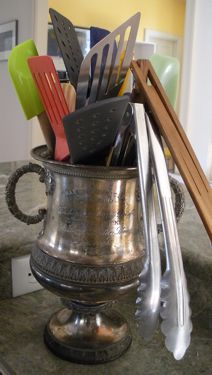 Knives are kept safely in this drawer. The wooden block keeps their edges sharp.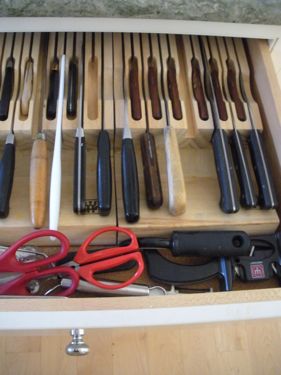 An organized kitchen allows me to focus on the cooking. I can't get into that flowing cooking zone if I have to stop and hunt for a tool or ingredient. I think that some people don't like to bake because of the five annoying minutes it takes them to find the cloves. That doesn't happen in my kitchen. I've got the spices in alphabetical order. Note that this isn't extreme – the containers don't match and I believe that my cinnamon is one bottle out of order.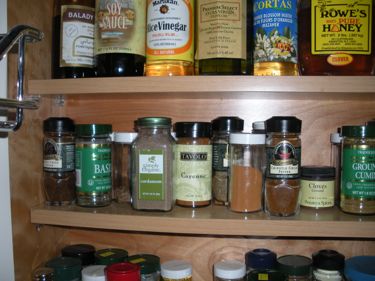 I designed my kitchen with function as the top priority. But, cooking is fun and so should be your space. This display in the corner of mine makes me smile. I think it makes the food taste better.