My "rocker chicks" are looking good.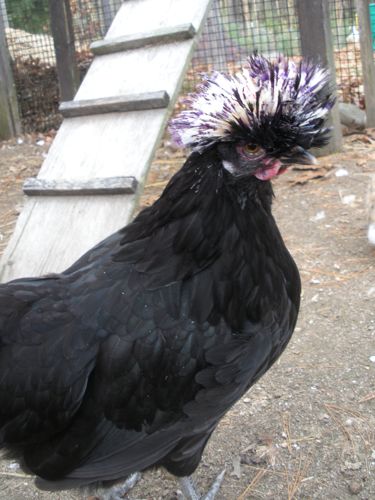 It's true on the playground, it's true at work and it's true in the henhouse – social life is all about personalities, both individual and group. The flock that I got these two from didn't have an aggressive hen in the lot. Still, Tina and Siouxie got picked on. Those pouffy hair-dos are too tempting! Even the nicest chicken would want to peck at those bouncing white feathers, and the coop was too small, so Tina and Siouxie couldn't move out of the way. When they came here I put them in the big barn where there's lots of room. The big barn hens have bossy temperaments, but most are elderly. I figured they'd leave the new hens alone. I figured wrong. By the second day, the Polish Crested were huddled in a corner, heads tucked down, tails facing the aggressive hens. They weren't moving to eat or drink. I had to get them out of there. So, I moved them into the HenCam coop. Yes, Siouxsie  and Tina were pecked at. But they also pecked back. Mostly, though, it was posturing. A strike, a retaliation, a quick shuffle a few steps away, then they'd all resume their normal scratching and eating. The important difference between this flock and the hens in the big barn is that the HenCam girls read body language. They didn't fight to the finish. A head turn away, a scurry out of the range of a peck, was understood as an act of submission. It  was enough. The girls in the big barn do not understand such social subtleties. They peck for blood, and they keep pecking. This is due both to genetics and to learned behavior. I don't like it. If I had only one barn, these hens would be gone. However, I have room for both, and since, within their own group, on a daily basis, you don't see it, I keep them around.
Meanwhile, the "rockers"' top knots are growing in. New feathers look like porcupine quills. Siouxsie is looking good.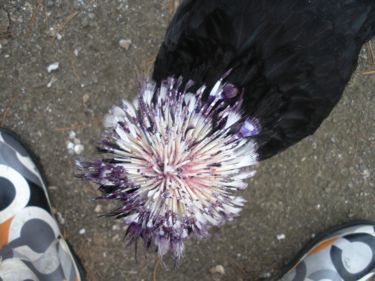 But Tina will always have a bald spot.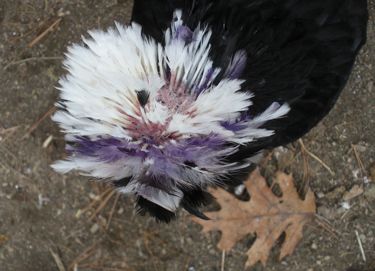 As long as Tina's head doesn't get cold this winter, I don't think she'll care.