I've blogged about this before, but it's worth doing again. Look at what I collected the other day!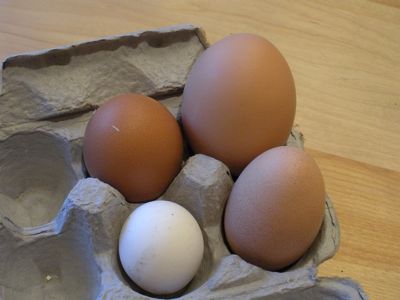 A standard USDA Large egg weighs two ounces. The egg to the top left, laid by Agnes, is 2 1/4. Her sister, Philomena, laid the whopper at the top right. 3 1/2 ounces! Sometimes, these duck-sized eggs have two yolks, but not this one. It was normal inside. Huge, but normal. And, I might add, delicious. The little white egg was laid by Eggers. Only 1 1/2 ounces. Also yummy.
The pointy egg to the bottom right was laid by Marge. She's an elderly, 6-year old hen. She lays only one egg a week. It's a standard two ounces, but you'd never find one like that in the market. It's so long that the carton can't be closed. Eggs from commodity producers do sometimes look like this, but they're sorted out, processed, and turned into "egg product."
Supermarket shoppers expect and want eggs of identical appearance. Not me. It's much more fun to eat eggs that reflect the personalities of the hens that laid them. Not to mention, far tastier.