One of the fun things about promoting Tillie Lays an Egg is that I get to take my chickens places that poultry are not usually welcome. This past weekend, The Country Club in Brookline, Massachusetts had it's first Family Fall Festival. The Country Club (yes, that's it's name. It's exclusive enough to be THE country club) is a bastion of privilege. It is an oasis of manicured lawns and elegant, historic club house, and a master's level golf course. There's even a curling rink! Suffice it to say, chickens are not welcome on the greens. However, they invited Tillie and me to come to this event, and we were happy to show up. Tillie (in this case, Coco, the actress who plays Tillie), was, of course, already in her country club finery of a white dress and fancy red comb. I put on some lipstick. Tillie graciously let dozens of children pet her. A few older members reminisced about chickens that they had when growing up. Here is a photo of our tent on the club house lawn. It was a lovely afternoon.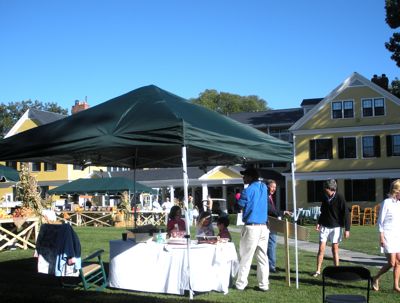 Next, we traveled to the Barnes & Noble in Framingham. Most B&Ns have cafes, and so, for health regulation reasons, I'm not allowed to bring a chicken. But this one's Starbucks is separate, and so Tillie was invited. There's nothing like a bringing a hen to a place where animals are totally unexpected. The children sat cross-legged, transfixed by the story and the live chicken. At least a half-dozen B&N employees joined the audience. Who can resist a pretty hen?
Here are Larissa DeAngelis and Muriel Macleod of the children's department.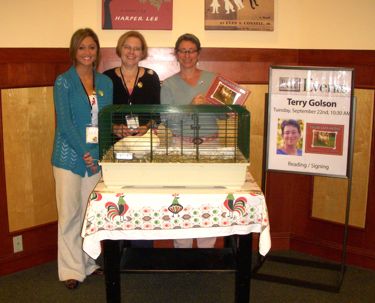 In October, Tillie and I drive 100 miles to meet the children in Springfield, Vermont. We can't wait.