I'm in a bit of a mood today. It might have something to do with my agent letting me know about a manuscript that we thought would sell readily, but has been "declined."  I need a new work-in-progress. I miss the emotional entanglement with my characters and the hashing and re-hashing of words. Somehow, all of my projects are now waiting for approval. I don't have anything in the just-started phase. I do have an idea that involves goats. So, I've been spending time with the boys. Nice excuse, isn't it?
Luckily, the vegetable garden suits my mood. My tomatoes succumbed to the blight and cold nights. I ripped them out. The bean plants, although still leafy, are producing twisted, discolored beans. The nights are too cold and the plants are too old. I tore the vines off of their support trellises and tossed them in the compost. Very satisfying.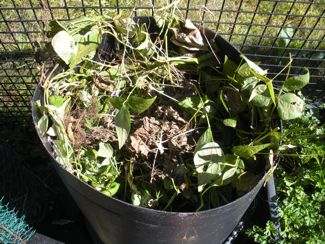 This is not the time of year for planting and nurturing. It's all about dead-heading and composting, gleaning what's left, and letting the soil rest for awhile. It's the perfect metaphor for my life. Okay, that's a cliche. Not my best writing. But it sure makes for mood-lifting gardening.