Yes, in Tillie Lays an Egg, the hens share and take turns. But, sorry, that's a work of fiction. This is what happens in real life: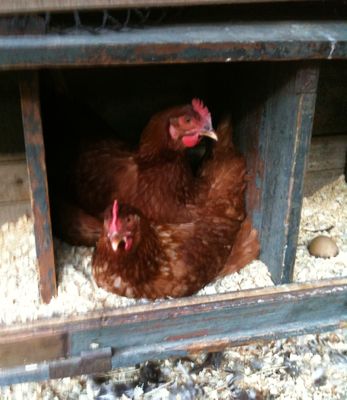 Philomena and Agnes both want to lay their eggs. There are three nesting boxes. The other girls are outside. Plenty of room, right? Wrong. They both insist on the middle box. Today. Yesterday they laid eggs in the right-hand box. What one has, the other wants. It'd be funny, except sometimes they get so pushy that they trample their eggs.
The egg that you see to the right is a decoy egg. It's wooden. It's used to convince new layers to lay in boxes and not on the floor. It works. Well, for everyone except for the aptly named Eggers, who lays whenever she is ready, wherever she is. Today it was on the floor of the coop. The other day it was under the bunny hutch. Last week, it was in the mud, in the rain. I stepped on it before I realized it was there. Once she lays her egg, she doesn't look back, which is a very Tillie-like thing to do. So, there is some truth to my book!