The goats' stall door leads into a small paddock. It's a very nice place for goats – it shares a fence with the HenCam coop, so the animals can visit (which they do!) It has two large rocks for basking in the sun and play. It has grass. It even has the compost piles.
The compost on the left is fenced off. It's where the chicken manure and kitchen scraps go. The other side contains the hay and shavings from the kids' stall. Goats have a reputation for eating everything, but in truth they are very picky eaters. I'd estimate that they reject 40% of the hay from their manger. And if any touches the ground they won't touch it. Fussier than any horse I've ever known!  The funny thing is, when I put that trodden on hay on the compost pile, Pip and Caper eat it up.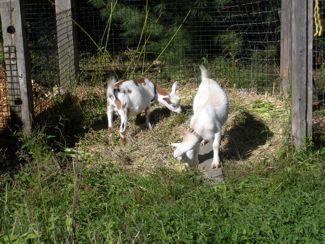 I think it appeals to their adventurous, foraging natures.
They're in for a real treat soon – we've been working on extending their paddock into the back meadow. I'll be using fencing especially made for goats and poultry – it's electrified to keep out the predators, and the netting is small enough that the goats won't try to squeeze out. We'll be able to move it around the back pasture and into the woods. The boys should love that.
This patch of golden rod, ferns and brambles will be enclosed soon.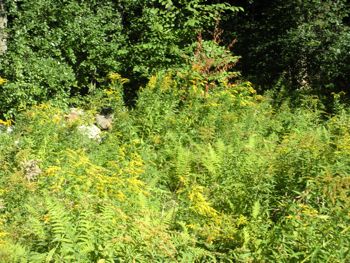 I think we'll have some happy goats, don't you?