For millennia, equines galloped across the steppes of Asia. About 5,000 years ago they began to live in concert with humans. Soon people couldn't live without them and horses spread with us across the globe. We began to selectively breed horses to make them even more useful and amenable for life with us. It wasn't that difficult. There's a reason that we ride horses and not antelope. Horses are peaceable herd animals that form deep friendships. Horses bond not only to each other, but to other species. Like us. They are built for traveling, have a back that can carry weight, and can find forage in a wide range of places. It took a few thousand years, but horses became stronger, larger, faster, and more suited to the tasks required by humans. The domestic population surged, the wild dwindled, and now there are no truly wild horses left in the world. (Herds out west are feral, not wild.) Recent DNA research confirms this. Even the Przewalski horse is descended from domesticated species.
Still, there is something of that wild steppe equine in our modern horses.
Does Tonka have an ancient memory of snow-covered Mongolian plains as he makes his way around the paddock?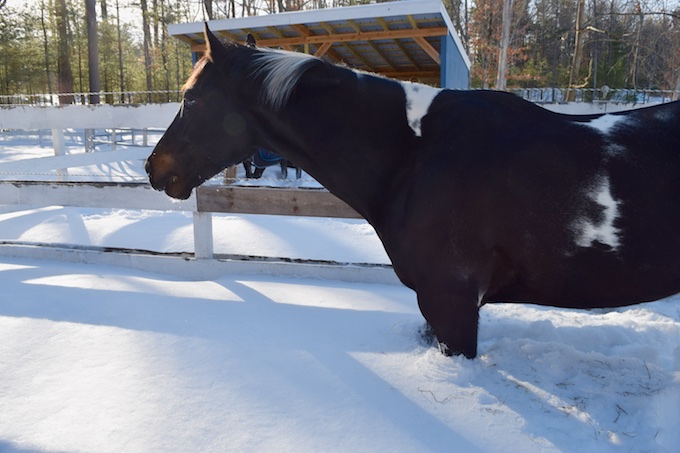 The horse's head is designed to shovel down into the snow, the upper lip wagging back and forth to push snow away, looking for hidden grasses.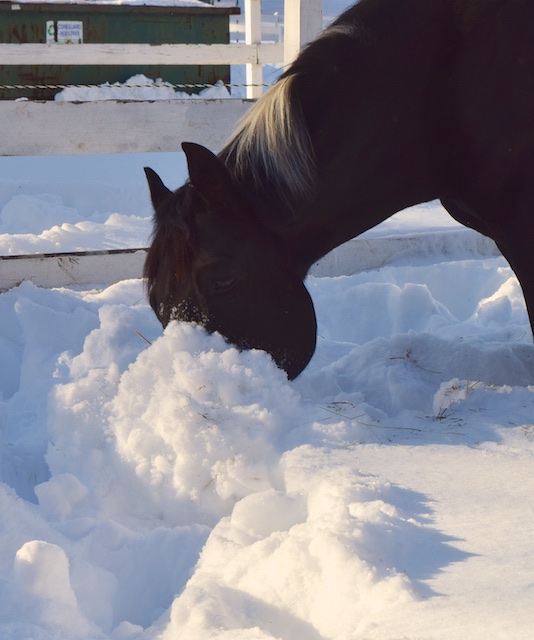 Wild Horse.