Before I get to the main part of this blogpost, many of you have already commented about this morning's temperature. Yes, the thermometer really does read -2° F. That's -18° C. That's bitter cold! But, no, the chickens don't need a heat lamp. Here they are this morning, eating and doing fine. It's not windy, so they do go outside. Soon the sun will be shining on the snow, making it bright and welcoming. For more about cold weather care, read this post. I've also written about frostbite here.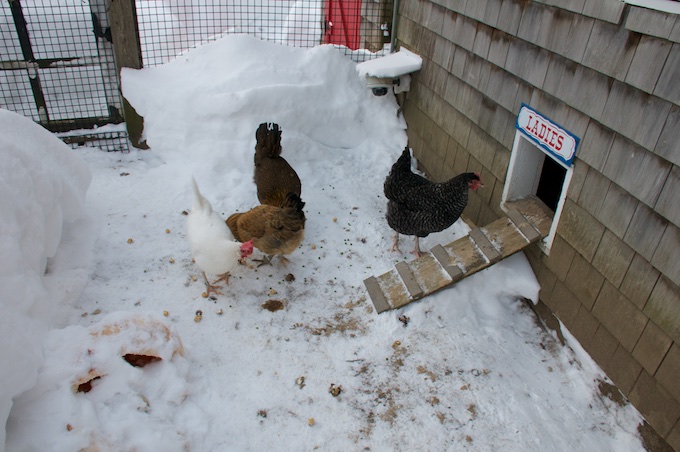 Yesterday was spent digging out. One son's job was to uncover the minivan. There it is to the left of the garage.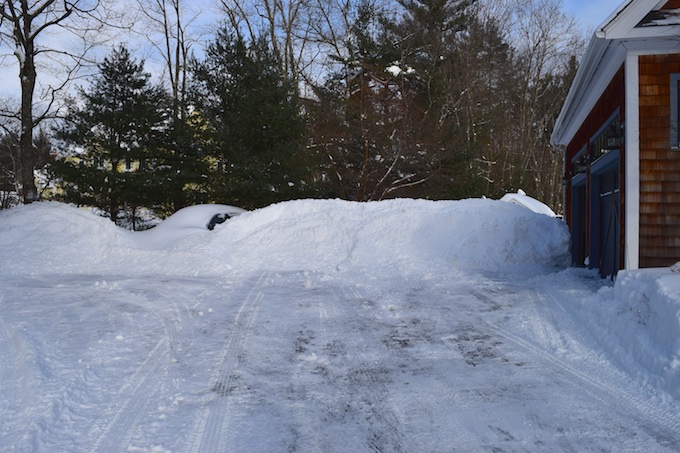 Here is the run before Steve shoveled.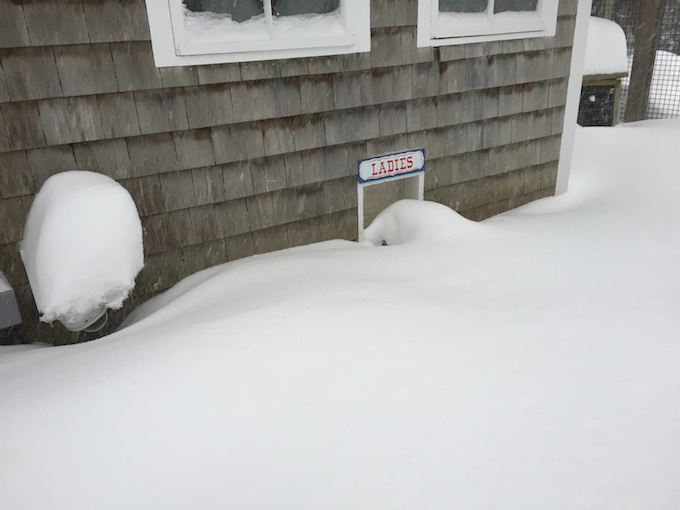 This is why I write in my Coop Design FAQ that large windows and height are essential. Imagine if I had one of those small, low to the ground, only one tiny window, coops. Or a coop in which the feed is outside and under the run. The chickens would have been in the dark. That means that they wouldn't have had anything to eat or drink for 24 hours. My hens have light and space. They laid eggs despite the storm. Still, Steve had work to do! The Ladies ventured out as soon as the door was unblocked.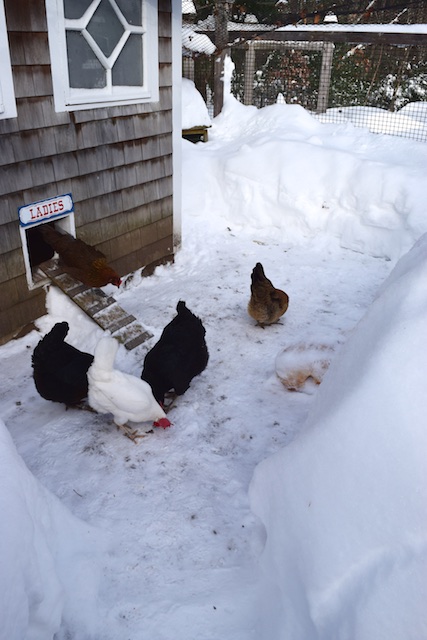 Steve shoveled a path to Phoebe's potty space. That's where she and the goats have a confab each evening. We cleared the area so that they could continue to have their nightly discussions.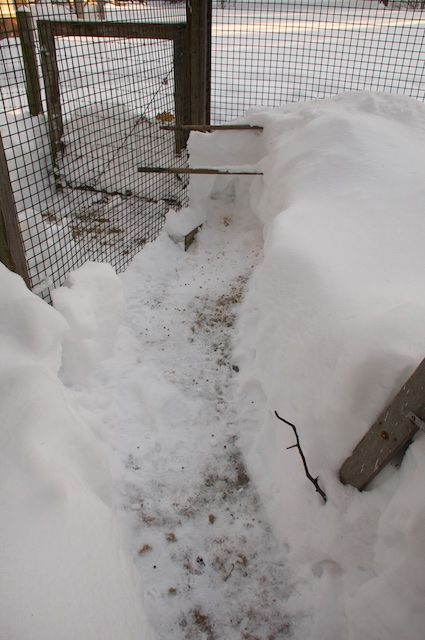 Shoveling out the goats' paddock was difficult. The snow blocked their door, so Steve had to reach over. Awkward!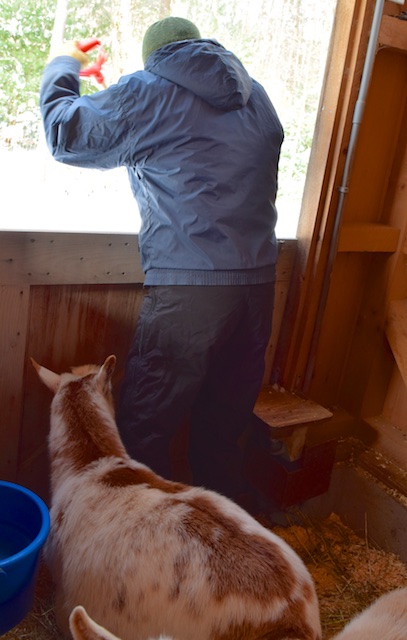 The goats squeezed out as soon as the door could be pushed open a sliver. They were chagrined to find a wall of snow in front of them.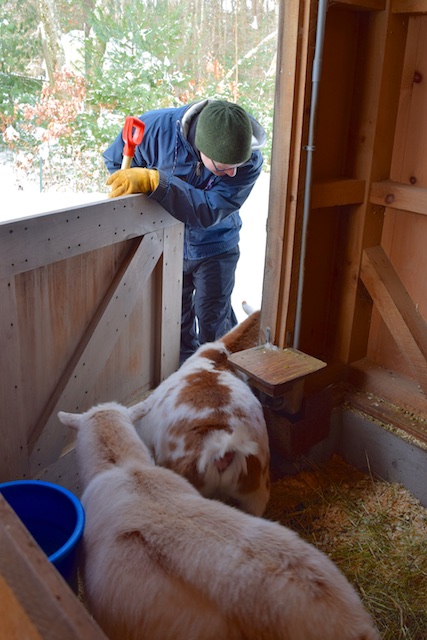 Steve kept shoveling.
The goats provided encouragement.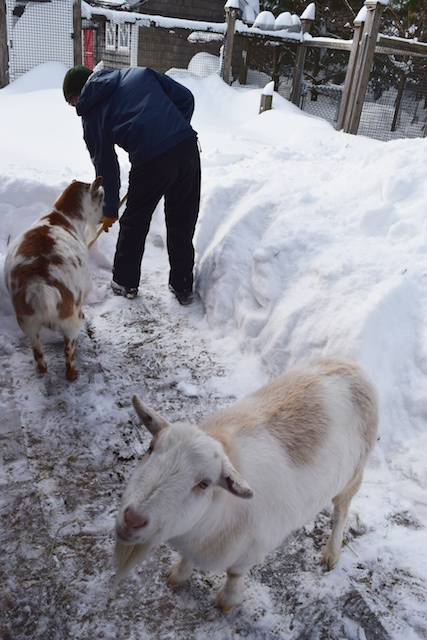 One difficulty with all of this snow is the problem of where to put the used bedding and manure. The compost pile is well back in the yard – now quite a trudge through three feet of snow. There is an area for compost in the goat pen that I haven't filled for awhile. It is back in use.
While we were digging out, someone else was digging in. Phoebe is making a snow cave. I wonder how far in she'll go?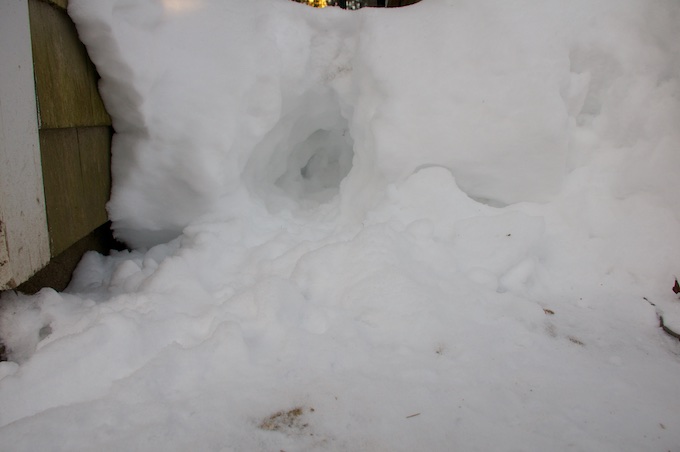 A big thank you to everyone who sent cocoa and coffee! Without your support, I couldn't keep the cams up and running.