Dust bathing is essential for chicken health. It's how a chicken keeps external parasites at bay. It's good for feather maintenance. It's also essential for chicken happiness. If you don't have your own flock then you probably haven't seen the pleasure that hens get from wallowing in the earth. You can see that joy on this video.
Chickens prefer to take dust baths in shallow pits of earth that they've scratched up. They prefer it dry, hot and sunny. Here in New England, those optimal conditions are rarely met. So, I provide my hens with a dust bath indoors. I fill it halfway with coarse sand and add a cup of food-grade diatomaceous earth. These two materials both desiccate and shred parasites, and my hens love the feel of them under their feathers. Sometimes I add fireplace ashes (wood only, not burned trash.)
This is a bird in bliss.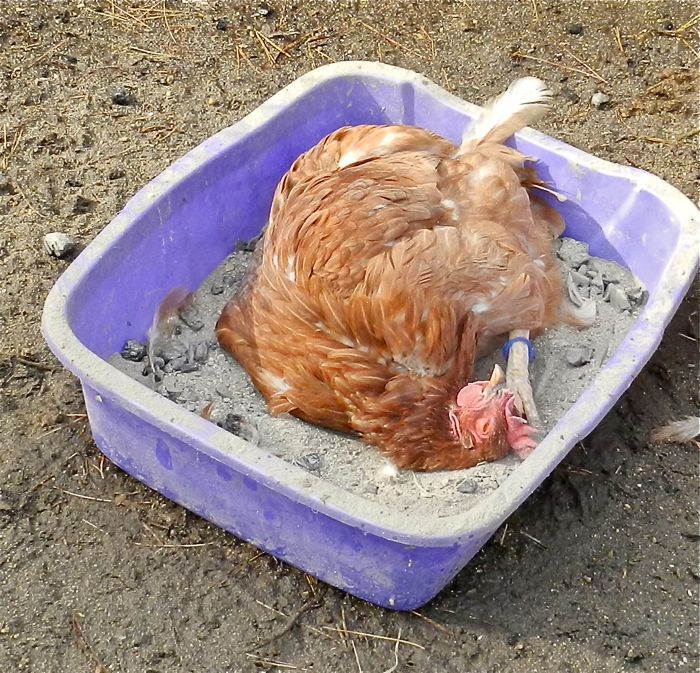 Recently, a reader brought to my attention that bags of builders sand had health warnings on them. This is because sand is crystalline silica, a basic component of rocks such as quartz, and sand on the beach, which are certainly not dangerous materials. However, on construction sites with jackhammers and blasters, or in quarries where rock is mined, the crystalline silica becomes a fine airborne dust. Breathed in it can damage lungs. Years of inhaling it can cause disabling diseases. Years. Like 15 to 20 (this according to OSHA.) Because of this danger, bags of sand have warning labels.
If I were a stone mason, I'd wear a mask on the job. But, my chickens don't need to. The value of dirt baths far outweighs the minimal risk of kicking up some dust.