So many of you have emailed me about Buffy, that I thought I'd fill everyone in on how she's doing.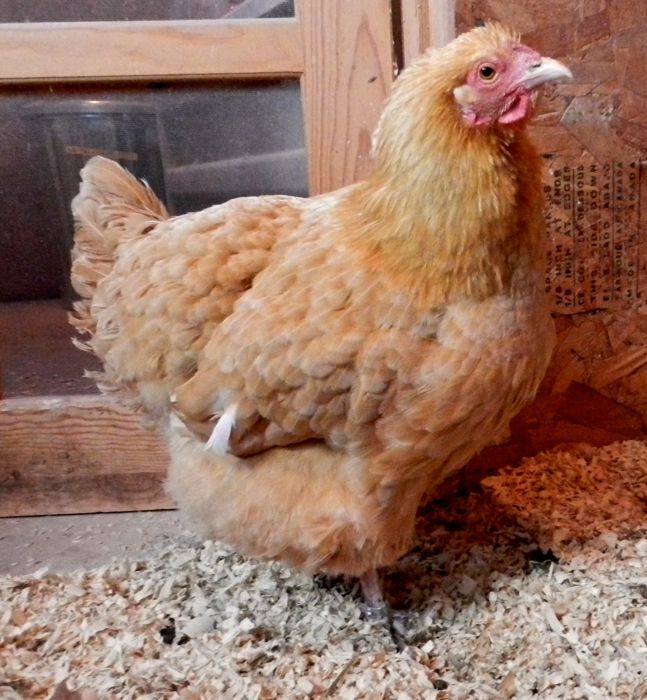 Buffy hatched seven years ago this spring. Over the long span of her life she has had a multitude of illnesses, which she rather miraculously recovered from.  But, Buffy can't beat old age. She's been ailing for months, and in all honesty, I'm surprised that she's still alive. What's even more surprising is that she is still bright-eyed and has her appetite! Can you see in this photo how it looks like her pantaloons are drooping? She's very weak in the legs, and so cannot get around much. Neither can she roost. When a hen stops roosting, it's usually a sign that she is going to die within days. Not so, Buffy.
I keep a close eye on her to make sure that she isn't suffering. I pick her up to judge whether she's eating. Trust me, Buffy remains hefty! I watch to make sure that she is steady enough on her feet to get around the coop. I observe the interactions with the other hens; no one is bullying her. When it is sunny, I take her outside to sit in a warm patch. I dust her with louse powder so that she isn't bothered by external parasites. But, mostly, I leave her alone. Buffy has never been an outgoing, friendly hen. Rather, she's been a placid, calm presence. She'd prefer if I don't fuss with her. And so I don't. I don't expect her to live through the winter. But maybe she'll surprise me again.
You've also asked for a post-blizzrd report. It's rained. It's been warm. It's been freezing. The two feet of dry, light snow that fell during the storm has shrunk, but it has also absorbed the added moisture, and become a dense mass. Some days Scooter can traipse along the top of it, sometimes he falls in and disappears. The shoveled paths are becoming worn. There are days that they're muddy, and others that they're slick with ice. The dead-end path on the left is Scooter's bathroom area, which he only deigns to use when it's warm and the snow surface can't hold his weight.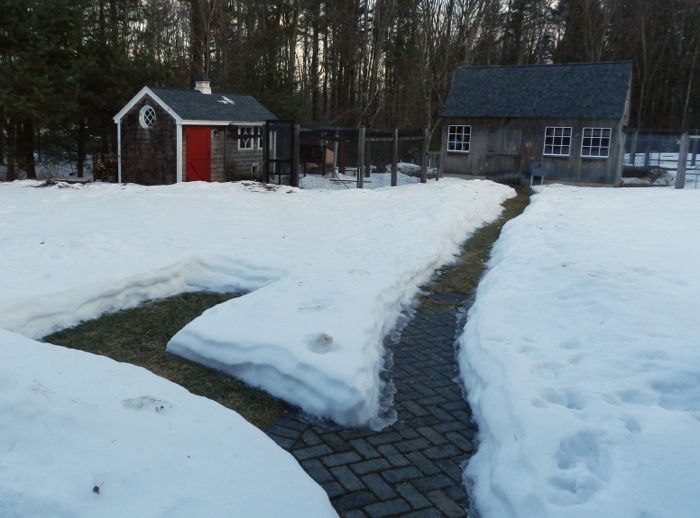 On other news, the Gail Damerow book contest is over, and Ruth won. I'm delighted, because she'll be sharing it with her 4-H club.
Lastly, you'll notice that there's a Tractor Supply ad on this page. In an effort to justify the full-time job that this website has become, I'm trying to earn revenue from it. TS has an affiliate program, so that I'm rewarded if you click through this site and shop there. FYI, the other ads on the page are through Google Adsense. I have no say in what you see, but they also bring in a (very) small bit of income. I appreciate your support!