What alway attracted me to riding, even when I was a young girl, was the communication that happened with the horse. Some people are into the galloping, the thrill of jumping, the grace of a dressage horse with cadence. Those are all good things, but to me they are nothing without the relationship. Sadly, in the horse world, training is too often done with force and fear. Horses are finely tuned to the smallest nuances of body language, and yet riders resort to yelling – with whips, with spurs, and with severe equipment. In May I audited a clinic given by a well-known British instructor. She trains Grand Prix dressage riders. I watched a student ride a circle around her. They were working on passage – which is a lofty trot with moments of suspension between strides. It looks like the horse is floating, but it requires athleticism and effort. The instructor wanted more lift and energy. She said to the rider, You have to get angry at your horse.
Angry?
If anger is required to get a good passage, then I will settle for a slow trot.
Horses are large and potentially dangerous animals. A horse will tell a person on the ground what's what by getting into her body space. Horses have teeth and hooves. They get afraid, they have snits, and they let you know it. When on a horse's back, the animal will let you know what he thinks by refusing to go forward, or by backing up, or rearing, or bucking, or any number of other moves that a thousand pound animal with four legs and a long neck is capable of doing. It's the horse's equivalent of yelling back at the rider.
But what if neither yells? What if the rider pays attention to tension in the neck, to ears that flick, to a softening in the mouth? What if the horse learns what a slight movement in the rider's heel on his flank means? What if the horse finds the work as rewarding as the rider? This is not to say that the rider should let the horse do what he wants. Under saddle, the horse needs to go where asked, and perform whatever sport is being asked of her. On the ground, the horse must have manners. But, respect doesn't ever come from anger or abuse. It never occurs because one is "alpha" over another. This is true with people and it's true with animals. Training can be done without anger; the resulting partnership between horse and rider will be that much more beautiful.
The question is how to get to that place where what you want is also what your horse finds worthwhile so that he willingly goes there. (If you're not into horses, insert spouse, child, dog, or cat into this sentence.) There are plenty of training systems to choose from, whether it is "natural horsemanship" or "centered riding" or whatever else is coming from the currently popular clinician on YouTube. I believe strongly in positive reinforcement that uses a marker signal for clarity. I use this with my dogs, and they joyfully engage in tasks asked of them. My goats, and even my chickens, cheerfully do behaviors when asked to with this method. So I've taken, what is popularly called clicker training, to the stable to use with Tonka. I haven't been satisfied with the results. I got the behaviors, but I didn't like my horse's expression. His ears went back. He was telling me something. I listened. I am figuring it out. We're communicating, and we're doing it without yelling.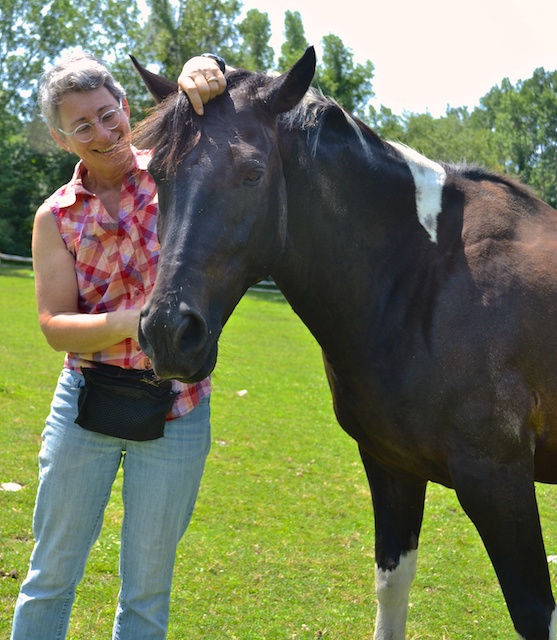 Note: I can learn a lot from Tonka, but each horse and situation is different. I'm looking for other horses to work with. if you are in my area (eastern Massachusetts) and have a horse, and want me to come out to do some training with the two of you, please email me.