Supermarket eggs come from hens that are the same age (young!) and the same breed. Still, there are variations, but you never see them because they're sorted out before packaging. Any egg with spots, inside or out, are diverted to processed products. Because of this, consumers believe that eggs must be uniform, or they're not good.
Those of use with backyard hens know that eggshells can have bumps and odd colors, and that eggs can be strange shapes, elongated or pointed, and still be healthy to eat and delicious. However, it is true that the older the hen, the poorer the quality of the egg. I've found that eggs from hens older than three years of age tend to have a grainy texture and that the whites are thinner. They're fine for use in baked goods, but they're not good hard-cooked or poached.
Twiggy's eggs are another story. She's three years old. The other hens that age lay beautiful eggs – upright yolks, sturdy whites and thick-enough shells. But, for more than two years, Twiggy hasn't had a break in her overly-ambitious laying schedule. Her egg shells are dull, not glossy, and they're thin, too. Inside, I'm seeing some odd things.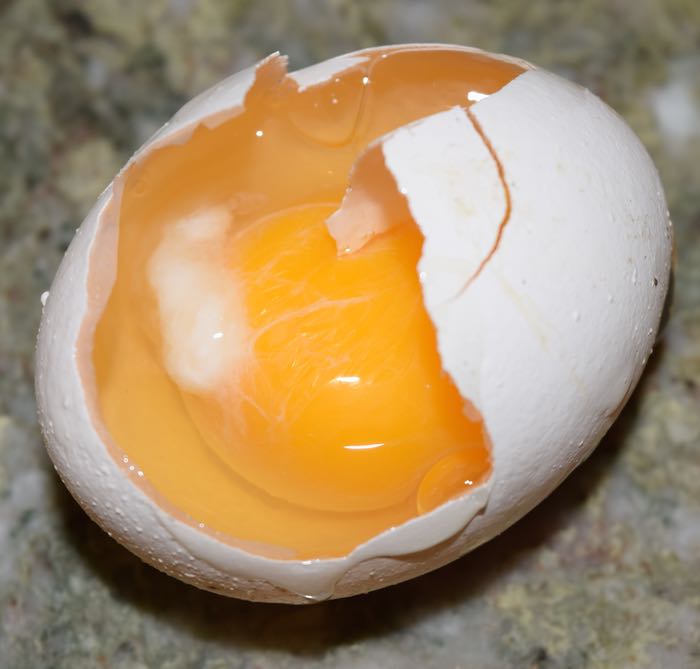 A fresh egg should have a stringy white bit called the chalazae. This is what centers the yolk in place. (As an egg ages, it disintegrates which is why you seldom see the chalazae in older eggs from the supermarket.) But this? This chalazae is all wrong. It's a mass.
Cracked into the pan, you can clearly see the difference between Twiggy's egg and that from Beatrix, who is exactly her age.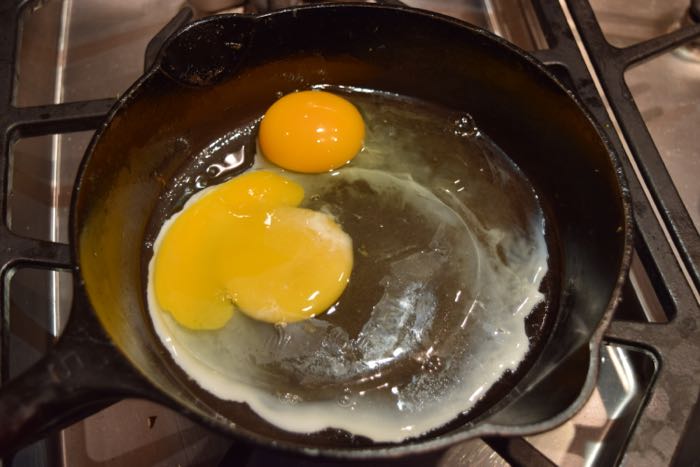 They have access to the same food, and yet Beatrix's yolk is a deeper orange. Look at how thin and clear Twiggy's white is. You usually see that in an egg that has been stored for weeks, not in an egg laid the day before.
Are these eggs edible? Yes. But I feed them to the dogs.
I don't know how long Twiggy can keep this up. I found one long white feather in the run. A sign that Twiggy is going into the molt and will be taking a break? I hope so!