It's fall and so the hours of daylight lessen, the leaves and the feathers fall, and the hens stop laying.
All but Twiggy.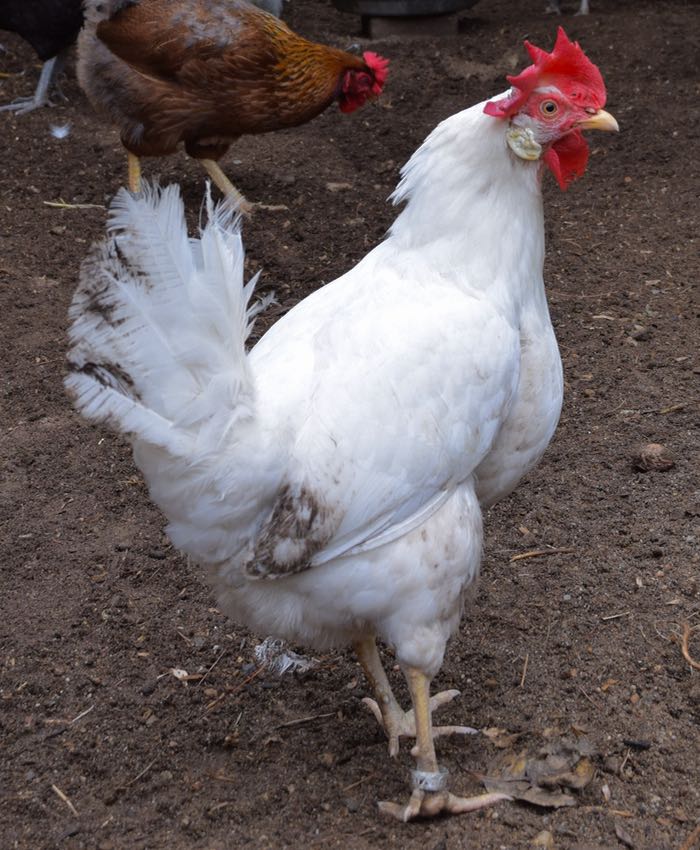 Yesterday I collected only one egg from the Big Barn – Twiggy's. She produces a very large white egg, distinct from what the other hens make, and so I am sure that it is hers. But even if I didn't recognize the egg, I'd know that it was from this White Leghorn. Why? Because she's the ravenous hen, and in my experience it's the hungry hen that is the best layer. All healthy chickens should be active foragers and eager eaters, but Twiggy takes that to the extreme. She needs to consume more food than the others in order to lay more eggs than the other girls – a 2 1/2 ounce egg, six days a week.
A hen like that needs a lot of fuel to have the energy and raw materials to make those eggs. Unlike the other hens, she takes advantage of every moment of daylight. She's the first to the feeder in the morning. It's a good thing that the coop has big windows and the sun comes in as soon as it's up. If she were in a darker coop, and slept later, I doubt that Twiggy would be able to eat enough. She's also the last to grab a few more bites before hopping up on the roost. If I go into the barn at night and turn on the light, while the other hens murmur and blink and hide their heads under the feathers, she jumps down, hurries to the feeder and starts eating. This is a problem for me, because if I turn the light out, she's stuck there on the floor, unable to see her way to the roost. So I'll turn off the inside light and leave on the exterior, and wait until she can find her way back to bed.
I don't know how long she can keep this up. I've yet to find white feathers on the ground from the molt. If she doesn't molt, she won't get needed rest. She barely took a break last year – just a slight slowing of production and then two weeks off. Her eggs are showing signs of weakness (more on that in another post.)
Has anyone had White Leghorns that went through normal, full molts? Took breaks from laying? This is my first large leghorn. My bantam leghorns (Snowball and her cousins) weren't great layers, and they all molted. Let me know your White Leghorn experiences in the comments!