The other day, a small drama played itself out in the Little Barn's pen. Veronica, the Marans hen, has gone broody. Midday, she took her bad-tempered and ruffled-feather self out of the nest to eat, drink, poop, dust bathe and preen. Broody hens look different – their feathers not only stick straight up, making them look larger and of a different shape, but they've often pulled some feathers out of their breast (the better to incubate those eggs that they deludedly believe that they have.) Different is not welcome in a flock. The other hens pecked at her head and chased her off.
In a free-range situation, Veronica could have put distance between herself and the flock and all would have calmed down. But my girls are in a fenced pen, safe from predators (and my garden safe from them.) If it was a bare enclosure, Veronica might have been cornered and harmed, so to prevent carnage, I provide several escape routes. The one that Veronica chose was the old ladder roost.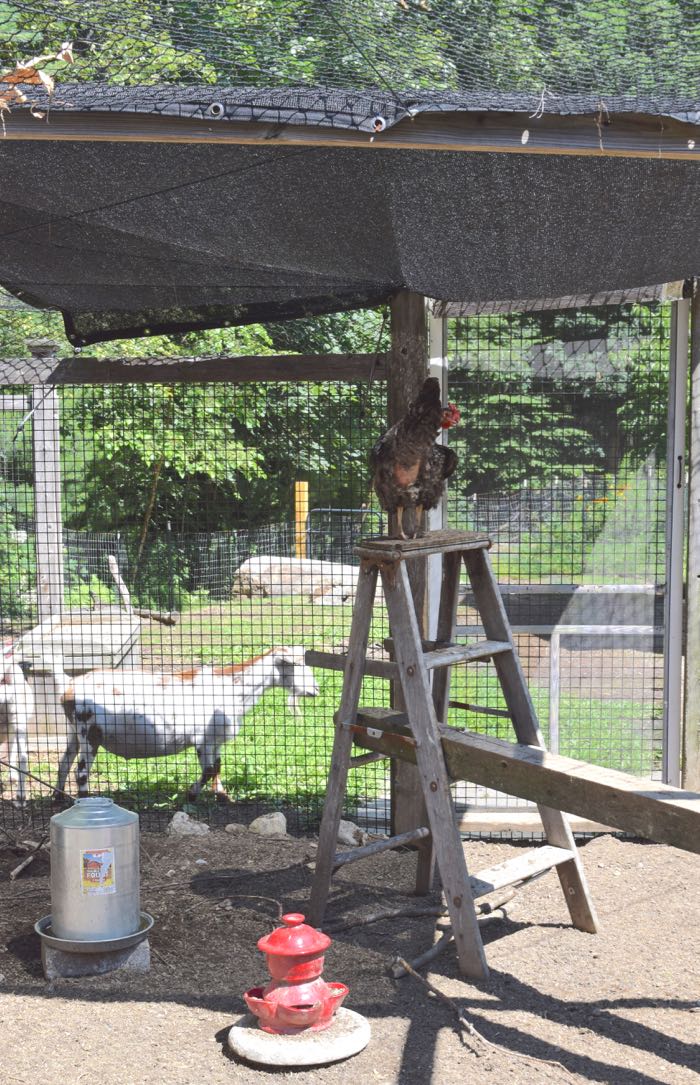 It's under the shade tarp, which makes it bearable on a very hot day. Even better, for a bad-tempered broody, it's in full view of everyone, but safe from them. In between preening, Veronica yattered away. But, up on the ladder, no one took notice of her. Not even the goats.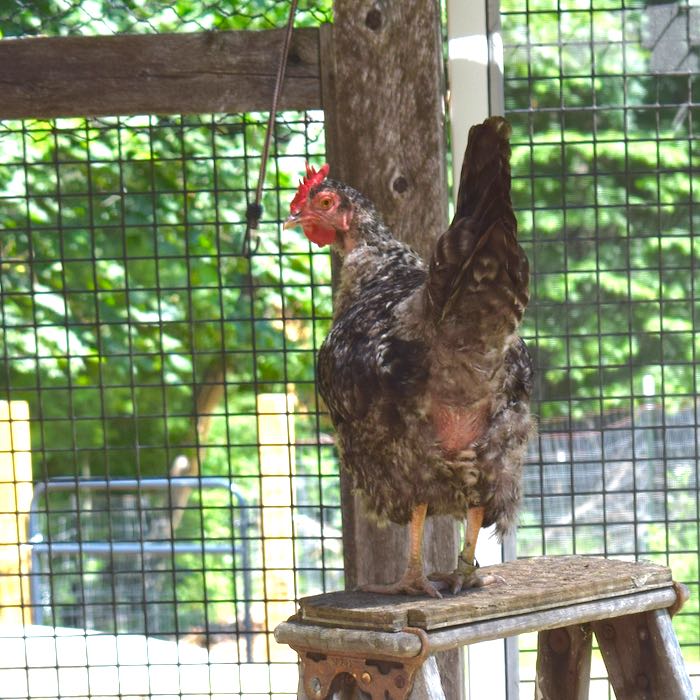 *Notice Veronica's bare bottom. It's nothing that I worry about. The skin color is normal, there's no sign of damage from pecking. It's not due to external parasites. My best layers often have bald spots. After last winter's cold, snowy confinement, my flock is looking especially ragged. The girls won't replace the worn out patches until after the molt late summer. They're not up to beauty pageant standards, but that's okay with all of us.