I live in a town so small and quiet that we don't even have a traffic light. Recently, though, I've been stuck in a few traffic jams.
I stopped to let this fox cross the road. By the time that I got my iPhone out, it moved into the woods and continued on her way – she's heading up the road towards my backyard. So far, though, I haven't seen this fox on my lawn.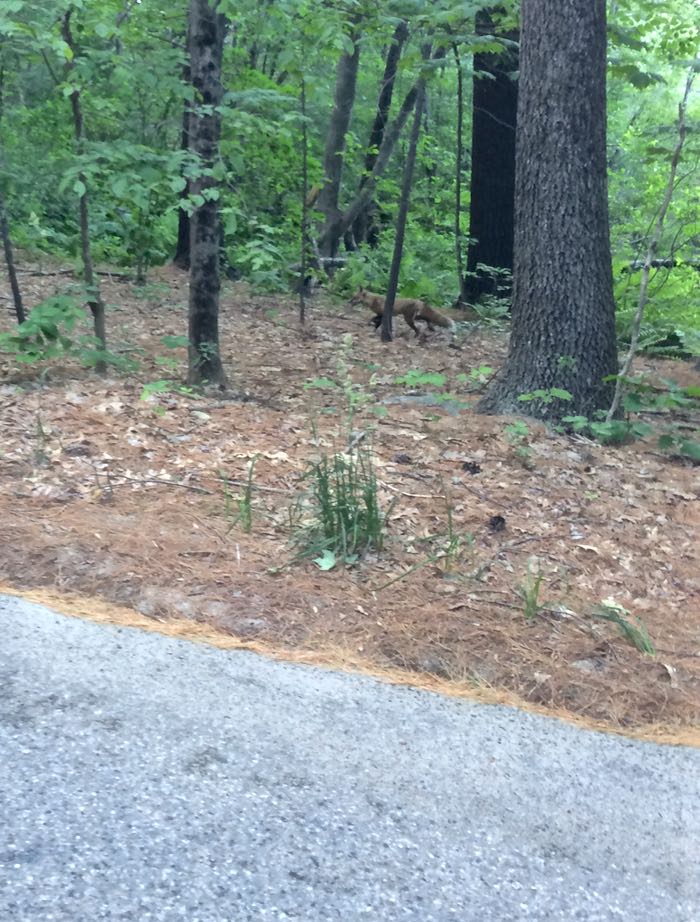 This mother mallard and her six ducklings stopped both lanes of traffic. See them heading under the guard rail? There's wetlands on the other side of it. I should learn by now to have my camera at the ready! Sorry for the poor quality of the photo.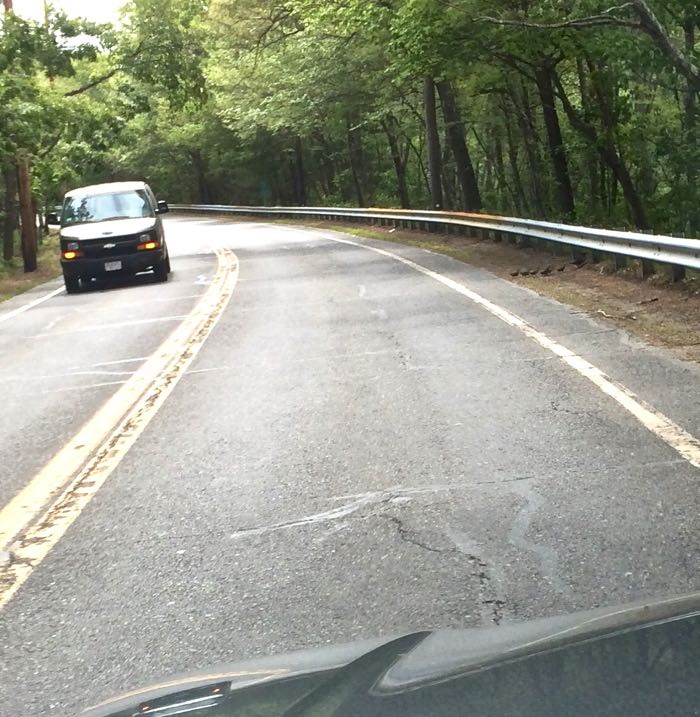 I had more time to take this photograph of the wild turkeys. They saunter. They do look like extras from Jurassic World, don't they?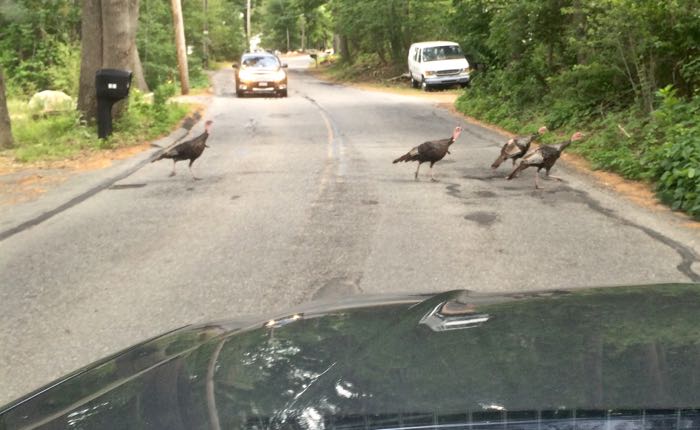 The mallards and the turkeys are mostly ground dwelling birds. They travel in groups. As much as I like seeing them go from here to there, what I don't want is for them to stay put on my property. Their droppings can contain parasites, and because of the size and habits of these wild birds, when they visit they leave a lot of fecal matter. I work diligently to keep my hens' pens clean of manure. Manure management is the primary way to prevent internal worms in your flock. If the hens free-range where these wild birds have foraged, they can easily pick up worm eggs. This has been the case for a friend not too far from here who have had a large flock of turkeys take up residence in the woods behind their house. My friend's coop is immaculately clean, but they still get roundworms. Another reader, in Florida, has a similar problem with feral peacocks.
It's not easy to treat on-going infestations of worms with poultry. There are no approved drugs for laying hens. (Beware of "Rooster Booster" – it's marketed as a drug that can control parasites, which it does, but it's an antibiotic.) People do use OTC drugs (in the USA, unlike in European countries, you can purchase these at feed stores without a veterinarian's prescription.) However, not all drugs work on all worms. If you're going to go the route of chemical treatment, have a vet do a fecal exam and recommend the right drug for the species.