Yesterday, my good friend, Karen Pryor, stopped by for what has become an annual June event – making Jam. As a teenager she developed a love of making jelly. There's something both scientific and magical about transforming only two ingredients – fruit and sugar – into something so delicious. Like everything that Karen does, she takes something that can seem daunting, and turns it into something doable and worthwhile (if you're not familiar with her work, take a look Don't Shoot the Dog: The Art of Teaching and Training.) Karen brings her special Mauviel M'Passion 1.2 mm Hammered Copper Jam Pan With Brass Handles, 9.4-qt, Made In France. I provide the jars.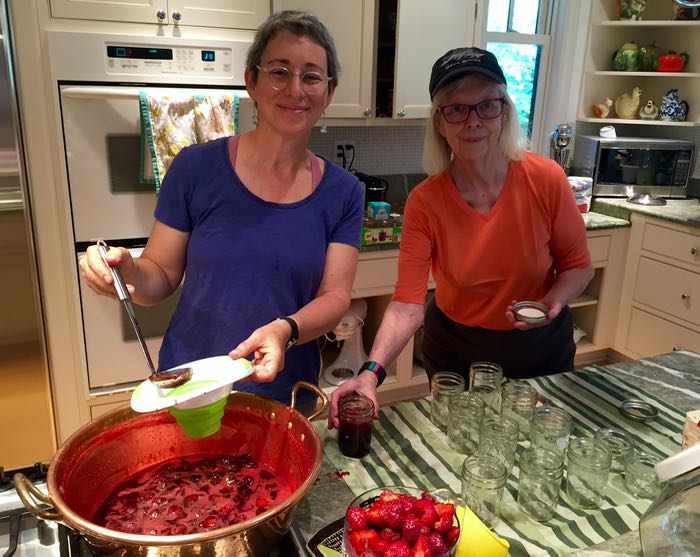 This year, we made strawberry jam made from fruit purchased locally at Verrill Farm. Their berries have that ripe, just-picked flavor of fruit grown for what they taste like, not how well they ship. So good!
Watching the process of the sugar liquifying and the fruit gelling is ever so satisfying. As is eating the results. Jam needs to be served on something, preferably some sort of bread, with good butter. So, before Karen came, I mixed up popover batter. As the jam boiled, I put the popovers in the oven. Like the jam, the popovers were easy as could be to make.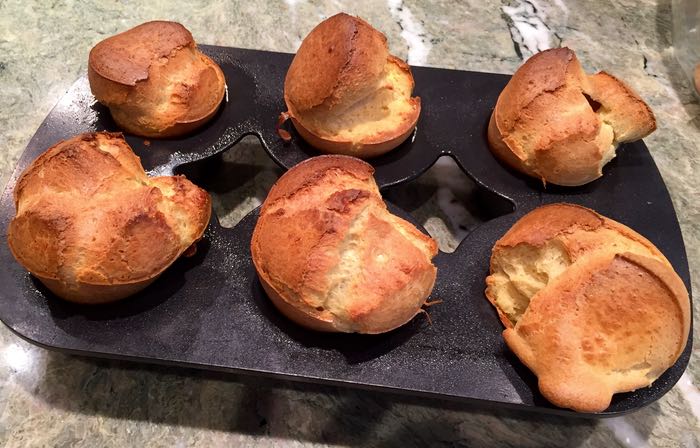 Perfect Popovers from the HenCam
3 eggs
1 1/4 cup all-purpose flour
1 cup milk (1% to whole is fine)
1/2 teaspoon salt
1 tablespoon melted butter
1. Coat a popover pan with non-stick spray. You can use a muffin tin, but the popovers won't have the classic cylinder shape or rise as high.
2. Put the eggs, flour, milk and salt into a blender. Puree. Scrape the sides down a couple of times to make sure that dry flour doesn't remain in the corners.
3. Blend in the butter.
4. Popover batter is best if it has a couple of hours to rest in the refrigerator, but you can use it right away. Preheat the oven to 400 degrees. Pour the batter into the popover pan.
5. Bake for 35 to 40 minutes until risen and golden brown.
makes 6 popovers