A dog's hind leg has a joint much like our knee. It's held together with a cruciate ligament. Lily tore hers. This causes pain and lameness. When this happens to little dogs, all it takes is rest to heal it. Big dogs require surgery, which has become a rather standard procedure. The difficulty comes in the rehab. That requires total rest for months.
As with so many things that our animals go through, it's up to us to make the decisions. It's rarely any longer a question of Can I fix it? but Should I?
Cruciate repair is major surgery and in order for it to work, the dog must stay off that leg – almost no movement – for a couple of months. This means being confined to a crate and hand-walking outside to do her business. Lily doesn't understand rest. She believes in work and rules. Her job is to make sure that the UPS truck drives away (she is always successful), to watch for predators, and to chase things that should not be on the property, like vermin and great blue herons. Most importantly, according to Lily, her main task is to always, always know where I am. I work at home. My office is on the second floor. Lily's job is to be where I am. That entails stairs, multiple times a day. I tried confining her to an x-pen, and providing bones to keep her occupied. She ignored them. I tried keeping her in the office when I left. Not a happy dog. I tried carrying her up and down the stairs. She weighs 50 pounds. My back ached and she was miserable.
I gave up.
Lily says that she is fine on three legs. She can do the stairs. She can go outside to pee, on her own, thank you very much. Lily has figured out how to conserve her energy and to rest. On her own terms. On the porch.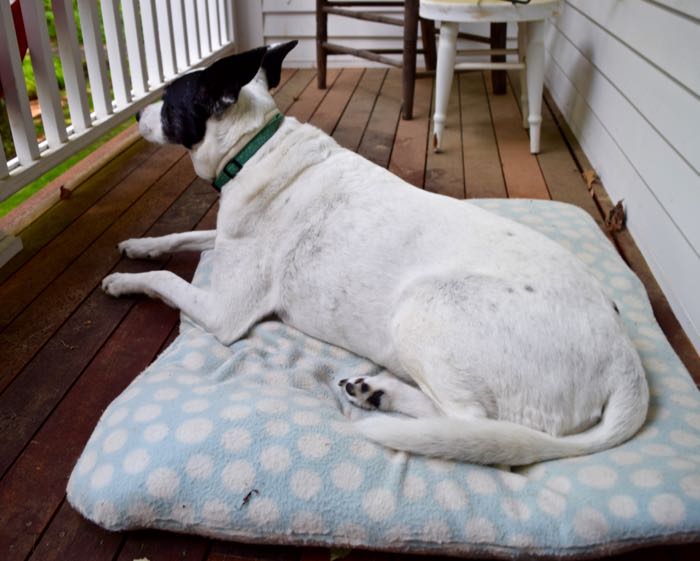 And under my desk.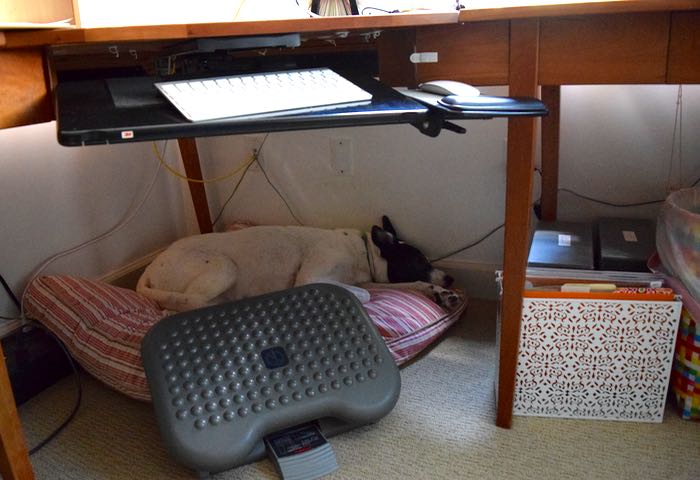 We've reached a compromise. If I'm going down the stairs for only a few minutes, I close her in the office. She knows I'll be right back. She's no longer allowed to jump on the bed because that's too hard on her hind legs. She has adjusted to sleeping on her pad on the floor. She uses a ramp instead of the steps outside. On my part, I accept that she needs to walk around the yard, sniffing at scent trails, and that she would prefer to do her business on her own and not on a leash.
Lily is twelve. I can't see putting her through surgery and months of rehab. My vet, Dr. Craig, understands Lily. He says that the only way she could have success with the surgery is if he sedated her for three months. That's dangerous to do to a dog, and besides, is that the life we want for her? Dr. Craig and I agree that it is not.
Lily was slowing down before this injury. She figured out how to be Lily despite old-age aches and pains. Now she's figured out how to be Lily despite one damaged leg.
What do you need Lily? I'm listening.
DNA update: The swab test didn't get enough material for the lab to work with, so I had Dr. Craig pull a blood sample. We'll have results in a couple of weeks.