We had a bit of a scare last week. Lily came up suddenly, painfully lame. At first the vet thought that she had injured her back and had neurological damage, but x-rays showed that not to be the case. Still, the prognosis was not good – Lily had blown the cruciate ligament in her right hind leg. This is an injury often associated with large, overweight dogs, which she is not. She is, however, a twelve-year old dog who does not know how to compromise or slow down. Despite aging bones and weaker tendons, she still chases down squirrels. Well, not anymore.
Little dogs who have this injury are able to rest and heal. Big dogs need surgery. Lily is fifty pounds, and so between the two. We're hoping that rest will take care of things.
Lily hates to be confined, and this will be an extended period of a few months of no stairs, no running, and of short walks on a leash. Lily is currently on medication which makes her drowsy, but she's still miserable about the situation. She's my shadow, and she's not allowed to follow me.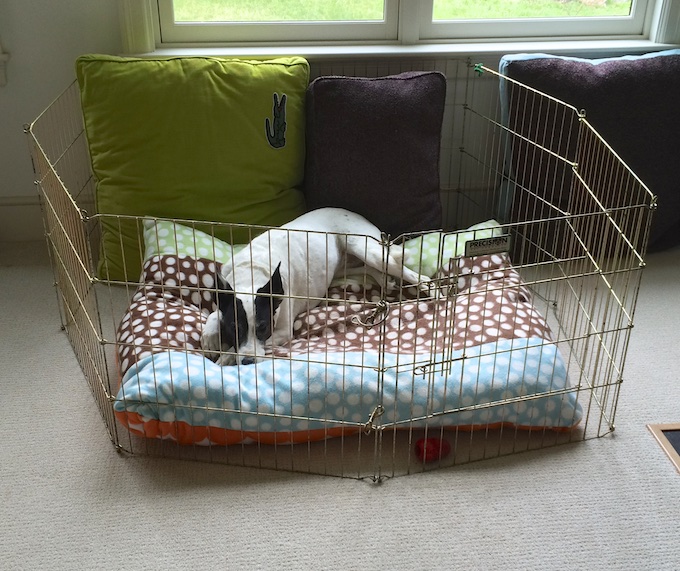 To occupy her time, I bought her a "long lasting chew toy." That lasted 45 seconds. I put peanut butter in a kong. That lasted one minute. When she comes out of the haze of drugs, I'll be teaching her tricks (using clicker training)  that she can do while on her bed. My friend Karen Pryor, who knows Lily well, sent me these suggestions in an email: crossing the front paws, telling big object from small, cocking the head on cue, nose target to object on the laptop screen, which hand is the treat in, etc. Karen says that such training can tire the mind and thus calm the body.
It will be interesting to see if the deer and predator situation changes now that Lily is not patrolling the backyard. Scooter is confused by all of this – instead of Lily protecting him from hawks outside, one of us hovers over him. He can't play zoomies with his best friend, and the mealtime routine has changed. Yesterday he sat on the steps and yowled. (This video is from a previous howling session, but it's what it was like.)
Have you had a dog on extended bed rest? What did you do?