Some people garden as a form of relaxation. It's a lovely thought.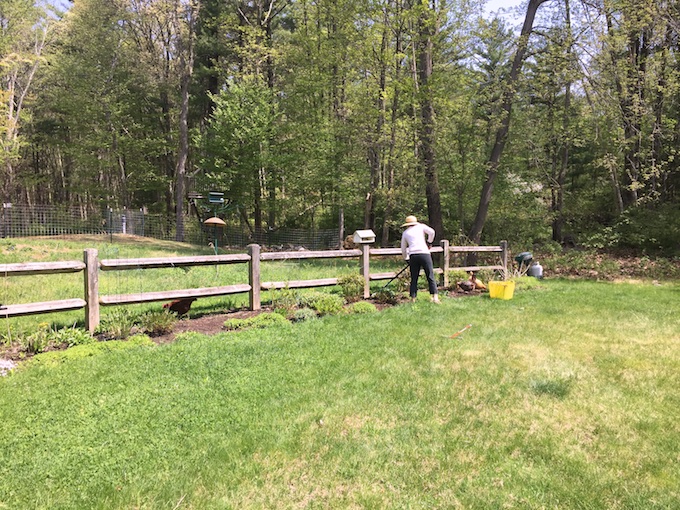 This perennial bed is 10 years old. The peonies and other flowers are well-established. If I put an hour of weeding and care into it now, at the beginning of the summer, it will require little maintenance for the rest of the season.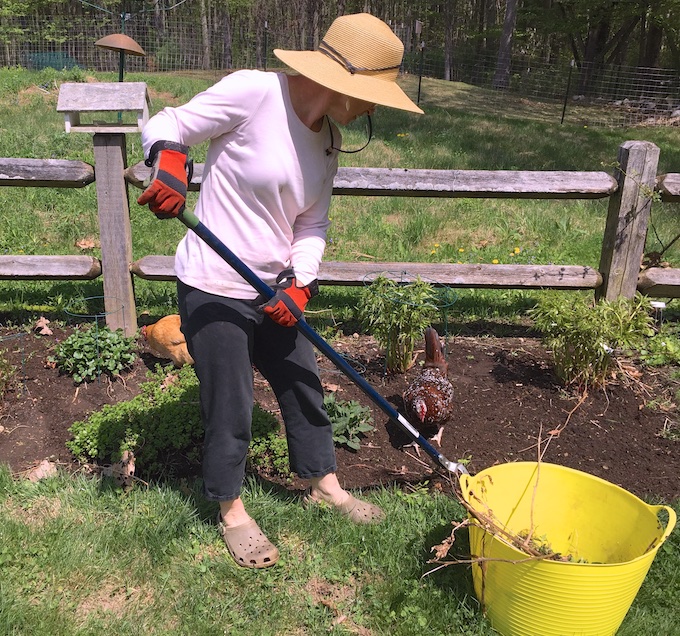 Because the plants are sturdy, I invite the hens to help. While I use my favorite hoe, the Girls dig up bugs that have overwintered in the earth. There is the low murmur of delighted clucking. I hear birdsong. Yes, this is peaceful.
The goats' meadow has been grazed too low. It needs a rest and reseeding. For the next few weeks the goats are regulated to their paddock, which is bare of growing things for them to eat, but the lawn can handle some grazing, and so I let them out while I garden. There's lots of lovely green grass for them. They should be no trouble at all….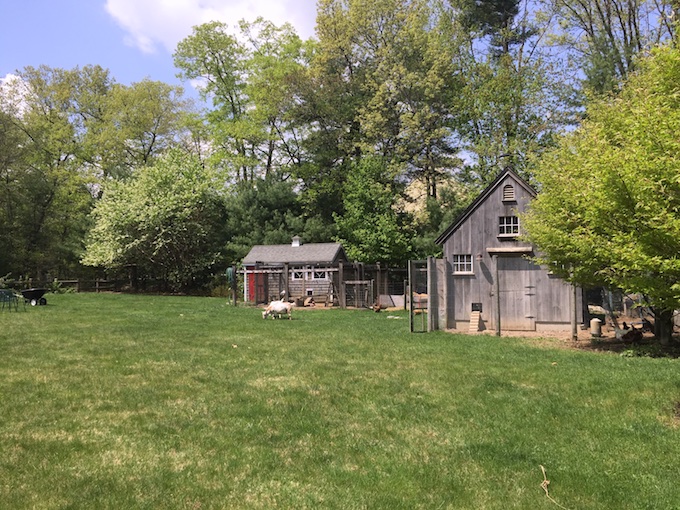 Picture perfect.
Not.
Goats have amazing superpowers. One moment they are in one place and the next they are all the way across the lawn, eating delicate herbs.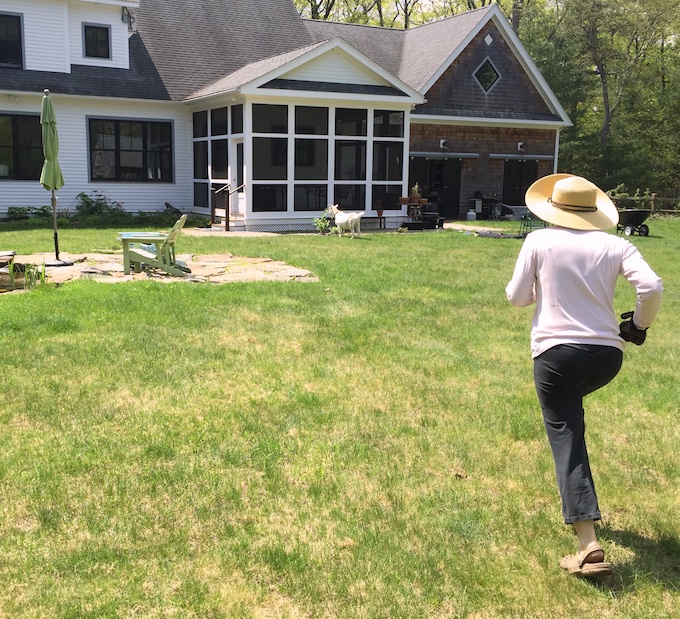 With much dramatic shooing,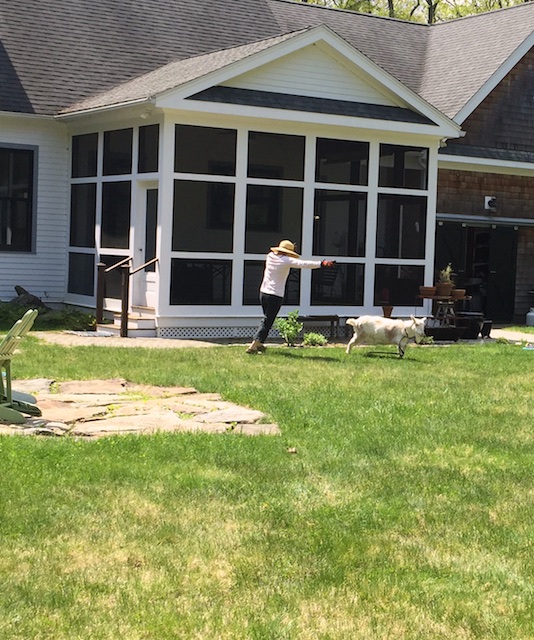 I convince Pip to head over to the water celery by the pond, and am able to finish weeding the last section of the perennial garden.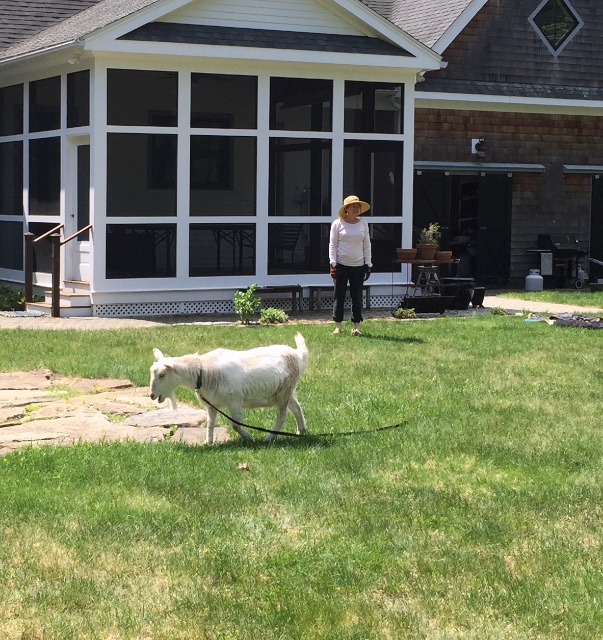 I might as well put the goats to work. The invasive mulitflora rose has made it's way into the wildflower meadow. Goats love brambles more than they love grass (or even the herbs by the house.) I call Pip over.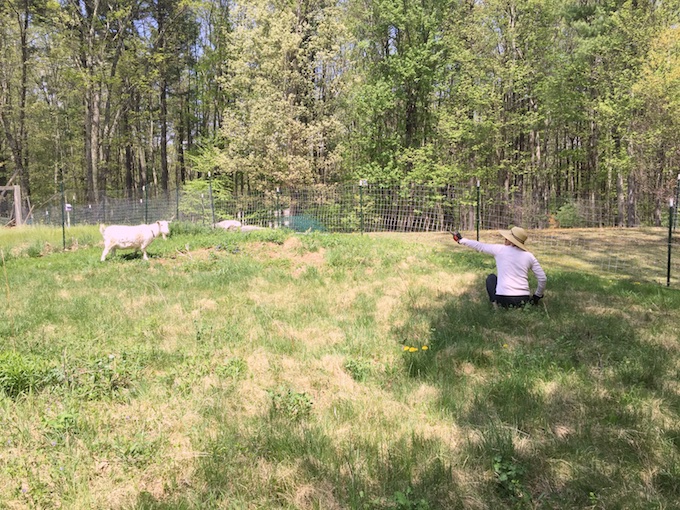 Pip is an excellent gardener.
Curious who took the photos? Steve was working in his home office, noticed the bucolic scene, and decided to take a break and join us. This was not staged; it was a typical small drama in the backyard. I do a lecture for garden clubs about integrating chickens into a beautiful home landscape. I also mention goats.