The Marans is a French breed known for its brown eggs. I've seen Marans eggs at poultry shows as dark as chocolate bars. I decided that such eggs would be pretty in my basket and so a couple of years ago, when I placed a chick order, I added a Marans to the list. They come in a number of feather variations. The Cuckoo Marans was available, so I got that. These birds are patterned rather like the Dominique. I named the chick Veronica. True to type, she is a friendly and docile bird.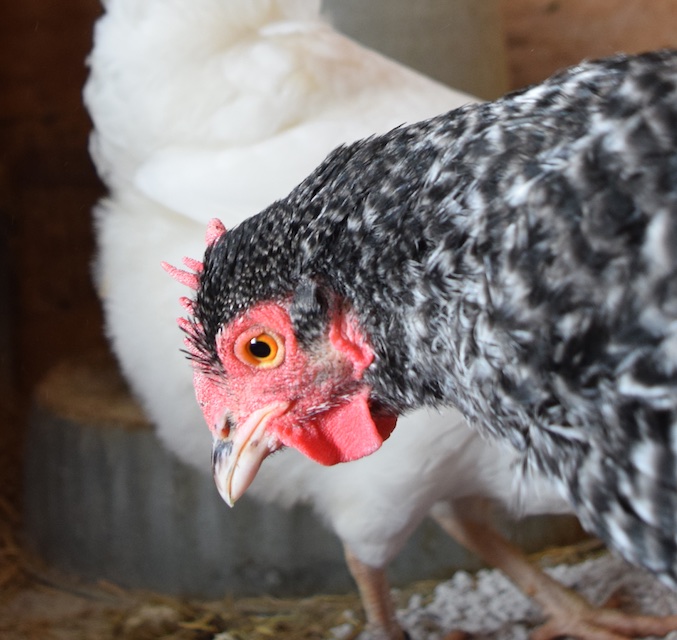 However, the truth is that her eggs have been a disappointment. Shell color is added at the end of the egg-making process. Imagine the egg passing through a car wash, and the dye is the rinse at the end. Sometimes your car isn't as thoroughly cleaned off as you'd like. Sometimes the spray is uneven. It's like that in the hen's reproductive tract, too. (For more about how egg shell color is determined, read this post.) Veronica has always had a glitch in her color-making apparatus.
Veronica has laid pale brown eggs with freckles. She's laid eggs the color of a brown paper bag. Most hens lay the same color egg day in and day out. Not Veronica. I know which one is hers because she is one of six hens in the Little Barn, and hers is clearly different that the others. Hers isn't the blue egg laid by Owly or Beatrix, it's not the white egg laid by Twiggy, and it's not the smoothly beige eggs laid by the two Red Stars. Hers is the odd brown one. What a surprise, then, that the other day she laid a dark brown egg!
I've put it in this bowl so that you can see it in comparison to other eggs. The white one is from the Andalusian, Misty. The spotted one is from Jasper, the Welsummer. The light brown eggs are from Nancy Drew and Beulah. The dark egg – that's Veronica's!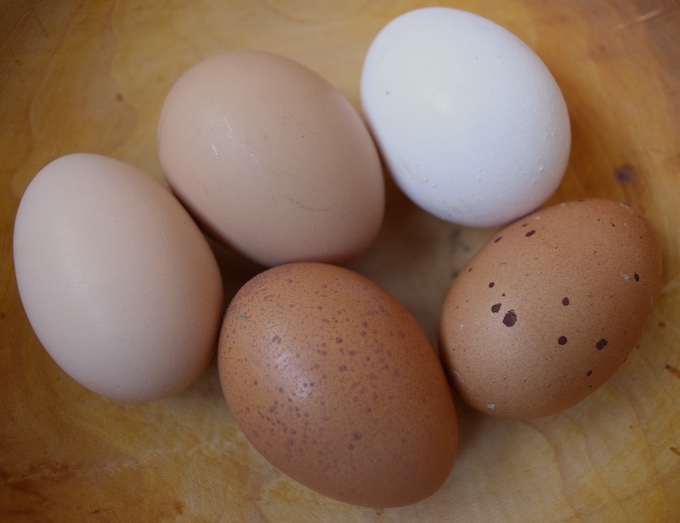 It's dappled instead of being uniformly brown. But that's okay. Thanks, Veronica!